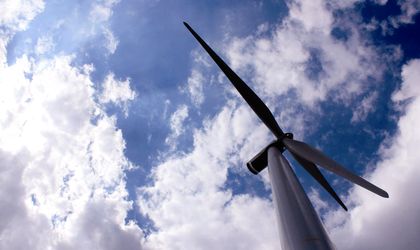 Incentivized green energy production allowed Romania to double its wind capacities last year to 982 MW and data suggests the same will happen this year, helped by foreign utilities that have flocked to increase their generation capacities locally, according to a report published last week by professional services firm TPA Horwath and law firm Schoenherr & Asociatii on the domestic renewable market.
Romania was the most active market in Central and Eastern Europe last year with 520 MW in wind capacities, while Poland came second with 436 MW, said the report. In August, Romania had 1,300 MW in wind power, according to Transelectrica, the grid operator.
"In the last year, investors' interest has moved to solar," said Monica Cojocaru, a lawyer at Schoenherr. At present, Romania has only 2 MW in photo-voltaic capacity but the six green certificates granted for every MW generated from this source are poised to attract investors.
The connection agreements for solar projects almost doubled to 522 MW this month, according to Cristina Petrescu, partner at TPA Horwath. For wind, this figure stood at 14,000 MW, although the grid can take in a maximum of 4,000 MW. Last year the government approved the green certificate scheme in order to attract renewable energy projects that will allow Romania to derive more than one third of its gross electricity consumption from green sources by 2020. The power output from hydro-power plants with capacities larger than 10 MW is also taken into account.
The targets may be ambitious, but investors are grappling with the financing of renewable projects.
"Project financing is harder to obtain given the provisions of the new energy law that hinder deal-making for purchasing power agreements (PPAs) and for the purchase of green certificates," said Cojocaru. She added that large projects in wind had mainly been completed by large utilities that relied on cooperate finance. Enel, GDF Suez and CEZ are some of the companies that currently operate wind farms locally.
One developer told BR that investors are starting to negotiate long-term PPAs of five to seven years, but the price of the green certificates is lower. The certificates have a regulated floor price of EUR 27 and a ceiling of EUR 55, where trading is happening right now.
Industry specialists say the price is likely to remain high until Romania meets its target of power consumption from renewable sources. Last year, only 2.5 percent came from green sources against a target of 10 percent. This year, it will rise to 12 percent and will reach 20 percent by 2020.
However, the 2020 result is set to fall short by approximately 60 percent, according to TPA Horwath research. This forecast excludes the power generated in hydro plants of over 10 MW.
If renewable energy production remains at less than 33 percent of the national target, the price of green certificates will remain in the EUR 48-55 band, says the professional services firm. A production between 50 and 65 percent of the target will see prices drop to EUR 38-50.
When the power production reaches over 65 percent of the mandatory targets, the green certificate market will gradually soften until 85 percent, when prices may fall to EUR 27.
Ovidiu Posirca