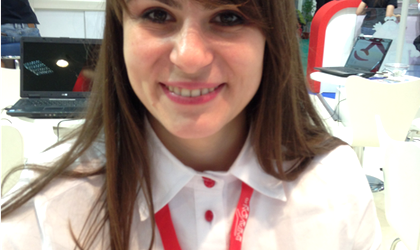 Madalina Grosu, product manager at Happy Tour, the largest travel agency in Romania by turnover, talks to BR about what are the preferred summer destinations by Romanians  this year and how much they are willing to pay for their holiday.
Simona Bazavan
Representatives of the Romanian Federation of Tourism Employers (FPTR) talked earlier this summer about a decline in demand for holiday packages both in Romania and abroad. Can you confirm this trend and if so, what are the reasons behind this evolution?
As compared to previous years, in 2013 Romanian tourists have taken advantage of the early booking offers and booked their summer holidays starting with January. Early bookings have the advantage of considerable price discounts (up to 40 percent of the package price) and this is why Romanian tourists are now starting to decide upon their summer vacation not in June or July, but from the beginning of the year. For June and July bookings were mainly weekend breaks and short-term holidays and this is why travel agencies are now facing a slowdown in summer sales.
However, until now Happy Tour has registered an overall increase of 17 percent for summer packages as compared to the previous year. For example, due to increasing requests for Antalya for this summer season, we have supplemented our offer with one more weekly charter.
Based on the market evolution so far this year, when should local travel agencies expect a market recovery?
Normally, for the Romanian market there are two peaks in the tourism industry, during the summer and winter seasons. Probably, if this summer season will turn out to be below last year's results, then the market will have its chance to recover during the winter holidays season.
How has demand for summer holiday packages evolved so far this year compared to the same period last year in the case of Happy Tour? What are the major changes, if any, and what determined them?
Regarding the summer holiday packages, Happy Tour has registered an overall increase of 17percent as compared to the previous year. In the first six months of this year, we have also registered an increase of 16 percent in our business and M.I.C.E business lines and we are expecting further growth until the end of the year.
In the leisure activity major changes were seen in the client behavior area. Many Romanian tourists have booked their summer holidays well in advance, starting with the month of January, thus benefiting from large discounts and from the considerable available offers. Furthermore, comparing to last year we can report a light decrease of the number of holidays per year. Our clients that used to have 3 or 4 holidays a year (usually packages of 7 nights) are now booking only 2 or 3 vacations choosing longer stays and better services.
How has the average value of a holiday package evolved so far this year compared to the same period of 2012
Happy Tour has different categories of customers and our packages are created to respond to all of their needs. Holiday prices start at EUR 250 per person and can reach up to EUR 2,000 per person.  Last year the average price/package was EUR 350/person compared with this year when we can report an average price of EUR 380/person.
Have you witnessed any changes in consumer preferences this summer – in terms of destinations, types of holiday packages or holiday duration?
For the summer holidays, the Romanian tourists generally prefer resorts that provide all inclusive services. We have some destinations which continue to perform very well, such as Antalya, where we introduced a new weekly charter to face the increasing demand on this destination.
As for preferences, they depend on the age group of the tourists as well as on their type of holiday, with family or with friends.  Families with children between 2 – 14 years are choosing holidays at the seaside, in resorts with everything included. Also for the families with children there is an increasing demand for destinations with themed parks like Disneyland Paris, PortAventura – close to Barcelona, Spain or Europa Park close to Stuttgart in Deutschland, Germany.  Young people are looking for places where they can have fun and also relax, like Tenerife and Palma de Mallorca in Spain. Circuits are preferred by tourists aged between 40 and 60 who want an active vacation that gives them the opportunity to discover some of the most representative destinations and world-known attractions, choosing tours in India, Vietnam, Thailand, Morocco, Indonesia or the beautiful cities of Europe. Cruises are also growing in demand for their itineraries and services offered on board.
What are the most popular destinations for this year's summer seasons? Do you notice any changes compared to last year?
In terms of preferred destinations there haven't been significant changes. For holidays abroad, the most popular destinations remain Turkey – Antalya, Spain – Tenerife and Palma de Mallorca and of course the most beautiful islands of Greece: Mykonos, Santorini, Crete, Corfu, Rhodes and Kos.
For holidays in Romania, the most popular summer destinations remain the Romanian seaside resorts such as Mamaia, Neptun and Eforie Nord. Besides the seaside there are also preferences for the Prahova Valley area, Bran – Moeciu, Maramures, Sibiu and also the health spa resorts like Baile Felix and Herculane.
Leisure or business – have you witnessed important changes in the share these two segments have so far this year?
Yes, we have registered a significant increase in our events and M.I.C.E. business line, both in terms of revenue (16 percent increase in revenues) and in terms of demand.