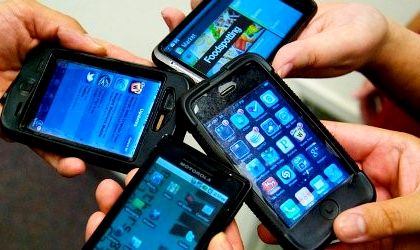 Romanian smartphone users are on average 34 years old and have higher education in 46 percent of cases, according to a study carried out by Breeze Mobile.
Romanian smartphone users prefer Samsung handsets (in 34 percent of the cases), followed by Nokia (25 percent), iPhone (14 percent), HTC (14 percent), and LG (8 percent).
Android is the preferred operating system by 40 percent of users.
On average, Romanians download 22 applications on their smartphone. However, 39 percent of them are very interested in mobile applications while 51 percent are moderately interested in them.
The majority of users, 85 percent, use their smartphone at home, 72 percent of users use it on the go, 63 percent also use it at work, 49 percent on public transportation system and 42 percent in the store.
Data traffic takes place most often via Wi-FI connections (90 percent of cases), due to the fact that most of the smartphone use takes place at home or at the office.
Most smartphone owners (76 percent) use their smartphones for instant messaging, applications, e-mail and chat, 60 percent listen to music or to the radio, 57 use social media, 54 percent use it for games and entertainment, and 49 percent check out the news and the weather.
Otilia Haraga