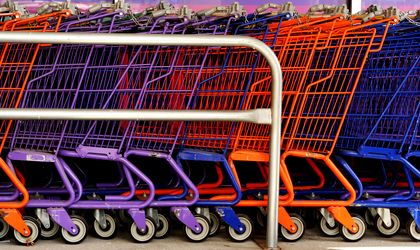 Close to two thirds of local shoppers bought strictly staple foods in 2012 while 86 percent believed food prices had gone up, reveals the Shopper Trends 2012/2013 Romania report, put together by Nielsen and released last week. Despite this, modern retail continued to develop and large retailers further invested in expansion, opening more stores in 2012 than the previous year.
By Simona Bazavan
Food products were on average 6.2 percent dearer in December 2012 y-o-y, but overall, Romanians felt the hikes more than official statistics show. Their perception of price increases for food remained similar in 2012 to 2011 but was considerably above the 2010 level, reveals the Nielsen report. Some 86 percent of Romanians said prices had risen, compared to 85 percent in 2011 and 82 percent in 2010. Only 13 percent thought prices had remained constant, down from 14 percent in 2011 and 18 percent the previous year. By comparison, 81 percent of Bulgarians felt prices had gone up as did 96 percent of Poles.
As a result of the price hikes, almost two thirds of Romanians – 62 percent in 2012 compared to 60 percent in 2011 – said they had resumed buying strictly the basics for their household. About 31 percent of respondents chose to buy smaller quantities (up from 26 percent the previous year). However, the number of those looking specifically for discounts when shopping decreased in 2012 to 26 percent from 30 percent the previous year. All in all, despite the lingering price sensitivity, discounts alone seem to be no longer enough when shoppers choose between retailers.
The Kaufland network of hypermarkets was perceived as having the lowest prices, according to 29 percent of respondents, followed by Carrefour and Auchan, each with 13 percent.
Other shoppers, 17 percent in 2012 compared to 10 percent in 2011, chose to cope with price inflation by switching to more affordable brands. Overall, only 8 percent of Romanians said they weren't affected by price increases, up one percentage point against the previous year. The price increase perception was even more pronounced in medium-sized towns and cities (90 percent) compared to the capital Bucharest (84 percent).
Despite the evolution of consumption, retailers did not halt expansion plans. The report shows that 2012 saw a more dynamic expansion of modern retail than the previous year. Local consumers remained thrifty in 2012, but they also chose to go shopping more often and to more stores than before.
More than a third of Romanians buy basic items such as food, groceries and personal care products on a weekly basis. The share went up in 2012 from 32 percent the year before and 19 percent in 2010. The share of those who go shopping once every two weeks was 38 percent in 2012, down from 40 percent in 2011 and 47 percent in 2010, while those who do so only once a month represent only 22 percent of the survey's respondents, down from 28 percent the year before and 33 percent in 2010.
On average, Romanians go to 2.6 stores each month but the share of those visiting four or five shops went up last year. By comparison, the average number of stores visited each month is 3.5 in Bulgaria, 3.4 in Hungary and 3.3 in Poland.
Local shoppers continue to spend the largest share of their grocery budgets in hypermarkets, while the share of discounters has decreased considerably over the past two years. All in all, 95 percent of Romanians' grocery budgets are spent in modern retail stores. Traditional trade remains the crisis's greatest victim, with its share continuing to slump, managing to attract only 3 percent of Romanians' cash in 2012, down from 6 percent in 2010.
As the years go by, local consumers are showing more interest in visiting retailers' online pages; however, this is directly linked to household revenue. Compared to their neighbors from the region, Romanians seem to be more open to new products, with 26 percent of respondents saying they were very willing to try new items (against 19 percent in Bulgaria and 13 percent in Hungary). Some 55 percent claim they have an average willingness to do so while 20 percent say they are more reluctant.
The Shopper Trends 2012/2013 Romania survey was carried out between October 10 and November 7, 2012 and the conclusions are based on the information provided by 1,200 respondents.