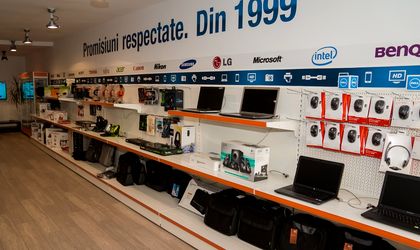 Estimations made by PayU prior to Black Friday 2014 showed that over 5 million Romanians, representing one out of two Romanians who have internet access, were expected to take advantage of the Black Friday offers this year.
"We expect nearly half of them will pay online for their Black Friday acquisitions, fast and reliably," said Daniel Nicolescu, country manager PayU Romania.
Online card transactions processed during Black Friday were estimated to spike by 50 percent compared to the annual average, while the average sum Romanians would spend was expected to double, according to the forecast of Netopia mobilPay.
Thus, Romanians were expected to spend on average RON 340 during Black Friday, which is twice the average sum spent online during the rest of the year.
Online payments made by Romanians on Black Friday were also expected to hike by 50 percent, compared to the annual average processed in Romania, according to Netopia estimations.
Some retailers have already made public the sums cashed this year on Black Friday. 
Six hours before closing Black Friday, online retailer eMag had sold over 30,000 smartphones, 20,000 tablets, 12,000 TV sets, 4,000 perfumes, 4,000 tires, 8,000 toys and 52 tons of animal food. In the first nine hours of Black Friday, eMag had sold 420,000 products with a total value of RON 145 million.  The retailer sold 44 cars, a category  introduced during last year's edition. The most expensive product sold online was a BMW X6 model, for EUR 66,500, at a discount of EUR 20,000 compared to the listing price. By 6 p.m. on Black Friday, the retailer had sold over 4,000 tickets for all types of Rompetrol fuel, at a 10 percent discount compared to the price at the gas station. About 1.1 million customers entered the eMag website from their mobile, launching 15 percent of the total number of offers.
Retailer Domo, which will be implementing the Black Friday campaign "7 Fridays a Week" between November 21- November 27, announced that during the first day, the best-sellers were products in the categories  smartphones, tablets and TV sets. The retailer registered in the first day of the campaign, by 1 p.m.,  over 60 percent higher sales in the phones and tablets category and over 30 percent higher sales in the TV sets categories, compared to the same period in the 2013 campaign. Domo prolonged working hours to serve as many customers as possible.
IT&C online retailer Oktal.ro posted sales of EUR 1 million up to 9 a.m. on Black Friday, after it kicked off the discount spree at midnight. According to Dan Dumitrescu, GM of Oktal.ro, the total sales made by Oktal.ro during Black Friday are expected to reach the EUR 2 million mark. The products that were most in demand were smartphones, TV sets and laptops. From midnight to 9 a.m., the online store had sold 1,500 mobile phones, 800 TV sets and 1,000 laptops.
Picture courtesy of Oktal.ro
Otilia Haraga