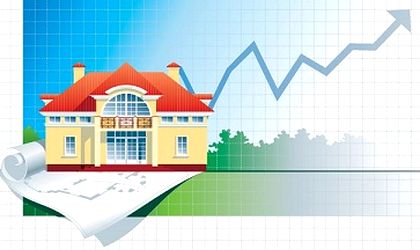 Residential prices in Romania have posted a slight increase in the second quarter of 2013, "raising the possibility of a temporary positive trend in the national market" although it could have also well been caused by a seasonal fluctuation, according to the Eurobank Property Services Residential Index.
A similar evolution has been reported in the first quarter of 2013 too, according to the same source.  However, compared to Q2 2012,  the national price index fell by 1.5 percent on average.
"During the 5 year period, which starts from the peak of the market registered in mid-2008, Romania residential prices have been declining at an average annual rate of 9.2 percent, totaling a price drop of 38.3 percent," reads the bank's report.
In central Bucharest prices dropped 4.8 percent in Q2 2013, thus remaining on a downward trend. On the other hand, in the Bucharest ring prices rose by 4.4 percent, "achieving stability for a whole year with a marginal fall of 0.7 percent since the second quarter of 2012. In Ilfov county prices continued to go down, dropping by a total of 8 percent during the last four quarters.
"Among the larger Romanian cities,  Galati and Ploiesti reported the highest quarterly growth rates, being most likely affected also by statistical noise, since the year-on-year and five-year performances of those two cities are negative and do not distinguish through special performances within the EPS index cities group. Cluj-Napoca, Iasi and Timisoara, however, hold the leading positions with a combination of quarterly and year-on-year growth, all figures varying within the healthy range between +2.4 percent and +6.54 percent. On the top of leading short and medium term performance, Iasi records the best 5 year performance with price decline rate since the peak of the market of -6.24 percent per annum (totaling a 5 year drop of -27.24 percent), followed by Galati with an annual drop of -8.44 percent or a total drop of -35.54 percent. All the remaining large cities of Romania have recorded steeper 5-year residential price average decline rates," according to Eurobank Property Services.
Price increases in Bucharest were mostly generated by house price hikes while apartment prices have "underperformed the average". Bucharest new properties grew at a higher rate than the old ones, but at national level, old properties outperformed new units during last quarter, recording price rises versus price losses respectively.
"Although the results of the last quarter are mixed, the second quarter rise at the national level may be a sign for crystallizing a sustainable growing trend," says the report. Nevertheless, Bucharest remains on a decreasing trend compared to 2012. "However, there are positive signs that the decrease can be recovered by the end of the year," said Eurobank Property Services.
Simona Bazavan