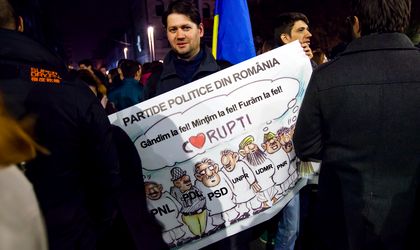 International news sources have been reporting on the past three days' ongoing protests in Romania, focusing on the political crisis and the number of people involved. "The protesters, reported to be at least 30,000 strong, demanded early elections and further political reform", stated the BBC following prime minister Ponta's resignation. According to the BBC, the protesters' main complaints surround government corruption and they believe that prime minister Ponta's resignation is just the beginning of a deeper reform of the political class.
"Ponta's departure might lead to a political realignment, although the coalition of three mainly leftist parties that form a majority in parliament showed no signs of a split", stated Reuters on Wednesday evening. The next day, Reuters added that "Romania's President Klaus Iohannis on Thursday said it appointed education minister Sorin Cimpeanu as interim prime minister to replace Victor Ponta who resigned the previous day after mass street protests".
The protests started early this week with thousands protesting  "across Romania on Tuesday, demanding cabinet resignations as the death toll from a nightclub fire reached 32, with dozens more people in hospital critically hurt", wrote Reuters on Tuesday. The protesters came out "carrying banners saying 'Corruption Kills!' and chanting 'Murderers!'" as they "shouted demands for prime minister Victor Ponta and deputy prime minister Gabriel Oprea to resign along with the mayor of the district where Colectiv is located", stated Reuters.
The public's demands for the ousting of prime minister Ponta were echoed by the Chicago Tribune, also on Tuesday. "Ponta has faced growing pressure to resign after becoming Romania's first sitting premier to face criminal trial on charges including money laundering that date back to his time as a lawyer", said the Tribune. "In September, Mr Ponta became the first sitting Romanian prime minister to go on trial charged with corruption. He faces allegations of fraud, tax evasion and money laundering", added the BBC.
"The embattled Romanian prime minister has announced the resignation of his government following large protests over a nightclub fire that killed more than 30 people", stated the Guardian on November 4. The growing anger towards the government is seen as a result of corruption, and "last week's fire delivered the final blow," said the Guardian in the same article. According to the BBC, President Klaus Iohannis "voiced praise for Tuesday's protests" and also noted that "the club tragedy had 'affected the nerve of the nation'".
"Romania's prime minister Victor Ponta announced his resignation Wednesday, acknowledging 'legitimate' public anger over a Bucharest nightclub fire that killed 32 people", said CNN. "I must admit that there is a legitimate anger in our society and also a legitimate urge to take bigger responsibility than the owners of that nightclub", Ponta stated, according to CNN, during Wednesday morning's press conference.
Following prime minister Ponta's resignation on Wednesday, international news sources continued to report on the situation. "Romanian prime minister Victor Ponta, already facing a corruption trial, stepped down along with his government after thousands of people flooded the streets of Bucharest in an anti-government protest", said Bloomberg on Wednesday morning. "His resignation failed to stem mass demonstrations as protesters emboldened by their success in forcing him out returned to the streets with bigger demands", added Bloomberg later in the afternoon of the same day.
Andreea Tint
Photo by Mihai Constantineanu