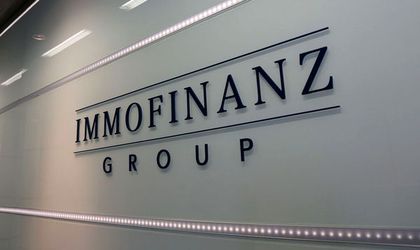 In the first quarter of the 2015/16 financial year (May to July 2015), rental income in Romania presented itself stable and totalled EUR 11.8 million (previous period: EUR 11.7 million), according to a statement by Immofinanz. This accounts for 12.9 percent of the group's total rental income.
Romanian results of operations amount to EUR 14.2 million and represent 26.5 percent of Immofinanz's total results of operations. Operating profit (EBIT) amounts to EUR 14.2 million.
Immofinanz announced it plans to sell the company's logistics portfolio, including property in Romania, at the beginning of August, saying that negotiations are currently in progress with potential buyers.
The Immofinanz properties in Romania represent 14.3 percent of the company's total portfolio, including 88 properties (20 standing investments, 12 developments and 56 pipeline projects) with a carrying amount of EUR 952.4 million (EUR 658.8 million standing, EUR 29.9 million developments, EUR 263.6 million pipeline). The standing investment portfolio splits into 8 office buildings (14.8 percent of the total office portfolio), 4 retail properties (10.7 percent of the total retail portfolio) and 3 logistics assets (5.4 percent of the total logistics portfolio). The expected fair value after completion of the current group's development projects in Romania amounts to EUR 120.4 million.
At group level, Immofinanz generated net profit of EUR 126.2 million in the first quarter of the 2015/16 financial year, recovering for the EUR 6 million losses registered during the same period of last year. The increase was supported primarily by positive effects from property revaluation, say representatives.
Results of operations totalled EUR 53.6 million (Q1 2014/15: EUR 90.9 million) and resulted, above all, from a 22.3 percent decline in rental income to EUR 91.4 million (Q1 2014/15: EUR 117.6 million) that was caused by temporary rental reductions in Russia and the planned sale of properties.
Positive effects from property valuation supported an increase in EBIT to EUR 296.6 million for the reporting period, an increase from the EUR 11.9 million registered during the same period of the previous year. Revaluation results adjusted for foreign exchange effects amounted to EUR 54.3 million (Q1 2014/15: EUR -2.7 million).
Financial results amounted to EUR -109.6 million (Q1 2014/15: EUR -19.8 million) based on generally stable net financing costs (EUR -42.4 million versus EUR -41.6 million). The negative foreign exchange effects (EUR -94.1 versus EUR 17.1 million) resulted primarily from the Russian financings.
Net profit rose to EUR 126.2 million (Q1 2014/15: EUR -6.0 million), which represents earnings per share (diluted) of EUR 0.12 (Q1 2014/15: EUR -0.01). NAV per share equalled EUR 4.30 (Q1 2014/15: EUR 4.19).
Cash and cash equivalents rose by EUR 102.1 million over the level on 30 April 2015 to EUR 492.8 million as of 31 July 2015. That represents EUR 0.5 per share (excluding treasury shares).
Staff