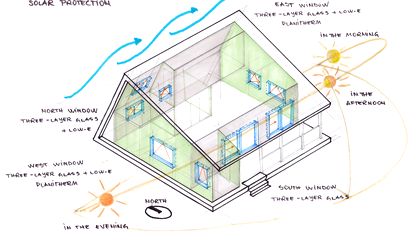 On September 30 in Mandrid, Europe's Solar Decathlon competition named their winners, while the energy efficient house Prispa, created by a team of Romanian students in Bucharest ranked 9th out of 18.
The first prize went to the French Canopea project, which prize starts from EUR 140,000 and can go up to EUR 700,000. Romanian "Prispa" was the cheapest project presented in Spain for the event, costing only EUR 70,000, which was already sold to a Romanian family before competition.
For this project, 45 students from of the "Ion Mincu" University of Architecture and Urban planning, the Polytechnic University of Bucharest, and the Technical University of Civil Engineering of Bucharest worked at the solar house.
Details about the Prispa project can be read on their official website.
About Prispa house
The project is a return to the traditional Romanian village, where you can find he best cabbage rolls, the best plum brandy, the best honey.
The house keeps its traditional passive function, protecting the interior from the greenhouse effect during summer and allowing direct sunlight in winter. Moreover, combined with the general architecture of the envelope (optimum 19 degrees angle) and a southern orientation, it naturally expanded the active solar surface of the house, allowing a perfect area for mounting the photovoltaic panels.
Oana Vasiliu