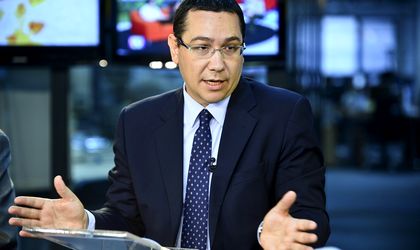 Romanian president Traian Basescu said on Monday evening, while speaking live at Realitatea TV channel, that acting prime-minister Victor Ponta (in picture) was undercover officer for the Romanian Foreign Intelligence Service (SIE) during 1997-2001, while he was a prosecutor, which was "a constitutional breach of the Constitution," "an incompatibility," according to Mediafax newswire.
Ponta dismissed the accusations, calling the statements "lies," and saying Basescu is "extremely troubled" and that "Romania should not rely on the troubled mind of an individual."
"Victor Ponta must admit that between 1997- 2001, he was undercover officer for SIE. (…) This explains how his career skyrocketed from the Prosecutors' Office of the district Court straight to the General Prosecutor's Office. This is no bomb, this is the reality and I am ready to prove it," said Basescu.
The president also said that he had asked Teodor Melescanu, former SIE manager, if there were former undercover officers of the institution within the government, who pointed out to him a government decision that extends protection to former undercover officers of the service.  The government decision had been initiated by Melescanu and signed by the prime-minister.
"I understand that last night president Basescu continued his attacks not only against me but also the other candidates. After ten years in which he lied and used state institutions for his own personal benefits,  today there are just 33 days left from this tragedy that lasted nine years and 11 months. From my point of view, anything Mr. Basescu will say or do is merely an example of what I must not do when I am president," said Ponta, also adding that if Basescu has broken the law, "we will ask that he is penalised," according to Mediafax newswire.
Robert Cazanciuc, minister of Justice, labelled Basescu's statements as "campaign statements," and the topic is "ridiculous."
The minister also said that "it is not the responsibility of the Ministry of Justice to find out whether there are, or there were at some point, undercover officers in certain institutions."
Otilia Haraga