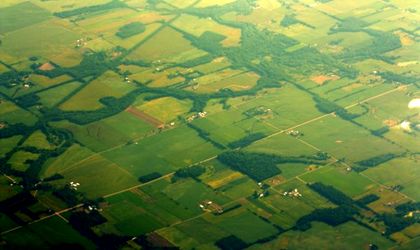 It is unfair for Romanian farmers to enter direct competition with foreigners over the acquisition of local farmland, said Romanian president Traian Basescu this Monday, according to Mediafax newswire.
"I am concerned about the land market liberalization. I don't say this out of cheap patriotism, but because I know that Romanian agriculture is considerably less capitalized than in other countries and by liberalizing the land market we throw Romanian farmers into unfair competition with the ones coming from capitalized agriculture sectors. The issue which I'm pointing to is not the fact that foreigners will be buying our land but the inequity," said Basescu during the launch event of Romania's 2014-2030 agriculture strategy.  He stressed that in older EU member states, farmers receive higher subsidies and have easier access to bank loans compared to Romanian farmers.
The Romanian State Domain Agency (ADS) should play a balanced part in the market following the 2014 liberalization, added the president who two weeks ago told Pro Tv, a local tv station, that after he steps down from office he would like to invest in agriculture and set up a 200-250 hectare farm.
From January 1, 2014, non-resident foreign citizens are set to be able to buy Romanian farmland, under Romania's Treaty of Accession to the EU, and the chances of stopping this from happening have proved very slim.
The topic has often been debated over the past couple of years and continues to be so, with politicians and especially local farmers arguing that Romania must find ways to restrict the purchase of local farmland by non-resident foreign citizens beyond the 2014 deadline. Their argument is that land prices continue to be much cheaper in Romania than throughout the rest of the EU and local farmers will be facing unfair competition from international players who have far greater financial power. Come 2014, there will be massive farmland acquisitions made by foreigners, farmers complain.
Others argue that most of the damage has already been done. Foreign investors can, and many have, circumvented the existing legislative restriction by purchasing land through locally registered companies.
Average farmland prices have almost tripled in Romania since 2007 and the upward trend will continue. Prices are forecast to reach an average of EUR 3,000 per hectare by 2015, according to a 2012 DTZ Echinox report. Even so, buying Romanian farmland continues to be an attractive business opportunity for both locals and foreigners despite recent price hikes. Read more here.
Simona Bazavan