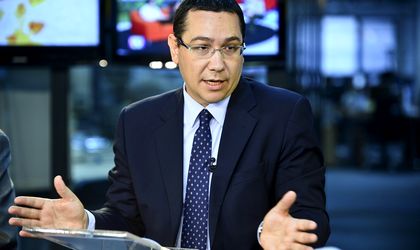 Prime minister Victor Ponta was indicted by the National Anticorruption Directorate (DNA) prosecutors for 17 offenses of forgery of private documents, complicity in tax evasion and money laundering, along with four other people, including senator Dan Sova and the Rovinari Complex director, according to Mediafax. The indictment means prosecutors have closed their investigation and sent the case to Romania's top court for trial.
Ponta is being tried in liberty in the case known as Turceni-Rovinari, prosecutors accusing him of issuing a series of invoices while having no legal basis and then, during tax audits, having convinced Sova's law firm to draw up false activity reports allegedly done by Ponta.
DNA prosecutors claim that in reality, Victor Ponta has not carried out any activities, using part of the proceeds from SCA "Sova and Associates" for the purchase of two luxury apartments in a residential complex located in Bucharest. Dan Sova's company allegedly bought the PM a Mitsubishi Lancer Evo 10, at his request.
Investigators claim that payments made by SCA "Sova and Associates" to Victor Ponta, amounting to RON 181,439.98 represent expenses that are not based on real activities and therefore Sova's company benefited from an unlawful tax reduction. The deal between the two entities has cost the state RON 51,321, prosecutors say.
Ponta was first called at DNA headquarters on June 5, when he was announced he was suspect in the case. On July 13, his quality changed to indicted as criminal proceedings were set in motion. On August 19, DNA established a protective measure of seizure of immovable property,  confiscating one of Ponta's apartments.
Dan-Coman Sova, manager of "Sova and Associates", now senator, will be tried for three offenses of complicity to abuse of office to obtain undue advantages for another part, forgery in private documents (17 offenses), tax evasion and repeated money laundering. Sova was prosecuted under judicial control.
In the same case were brought to trial, in liberty, Laurentiu-Dan Ciurel, at the time general manager of Rovinari Energy Complex SA (CER), charged with three offenses of abuse of office to obtain undue advantages for another, Dumitru Cristea, at the time general manager of Turceni Energy Complex (CET), accused of five offenses of abuse of office to obtain undue advantages for another and Laurentiu-Octavian Graure, CET chief economist at the time, accused of abuse of office to obtain undue advantages for another.
President Klaus Iohannis said after the indictment of prime minister Victor Ponta that "Romania's image has suffered greatly" and from his point of view, the solution to this problem would be the one he had proposed in June, that the PM resign.
President Iohannis had requested Ponta's resignation on June 5, when Ponta was still a suspect in the case, saying that, in his opinion, it is an impossible situation for Romania for its prime minister to be accused of criminal offences.
Subsequently, Victor Ponta said he took notice of the President's public stand, but that he would not resign and that only the parliament could dismiss him, since the parliament had elected him for the government office.
Natalia Martian