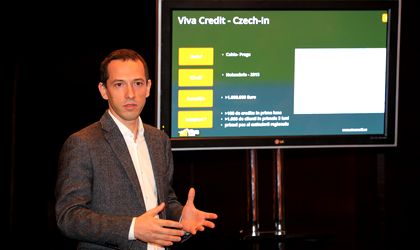 Viva Credit, a Romanian non-bank financial institution (NBFI) opened this November its first subsidiary outside Romania, in the Czech Republic, following a EUR 1 million investment according to company representatives. Viva Credit was founded in 2010 by Ionut Stan, general manager, and Viorel Stan, chairman, after having noticed an absence of cheap credit lines from more conventional sources such as banks on the Romanian market.
The two decided on the Czech Republic rather than other countries in the region because  "the Czech Republic has a very competitive market, all the big European players are there and have been there for a long time", said Ionut Stan. Furthermore, Viva Credit aims to adapt the technology and knowhow already developed on the Romanian market to the Czech one, something that should be made easier by the fact that both the markets and the consumer behaviors in question are different, said the Stan cousins. "In Romania, in order to obtain information about a person, if their bank account is theirs or not, if they've paid their taxes or not, the process is still sometimes done by hand", said Viorel Stan, as opposed to the Czech Republic where there has been more government investment in infrastructure and information is more centralized, he added. Thus, "the sums loaned in the Czech Republic are about twice as big as in Romania," added the GM.
For now, the company outlined its main aims in the Czech Republic as "the progressive growth of its popularity within the financial institutions field" and reaching the 1,000 clients threshold by the end of this year. So far they've awarded over 100 credits in their new location.
As far as future expansions are concerned, the general manager and chairman said that Viva Credit is currently focusing on Eastern and Central Europe as "Europe adopted a Nordic model [for payday loans], including the Czech Republic". This makes their company's American-inspired model a slightly different product in a competitive niche industry, said the two Stan cousins.
An online-exclusive business model
Viva Credit offers exclusively online payday checks, a relatively new product on the Romanian market, with an increase in numbers being seen only in recent years. Nevertheless, this type of online based credit is "a business model that is more and more widespread" in a "fairly strong market and global trend", said Viorel Stan.
In 2010, we had to fight to convince people that this product existed, that it was actually possible to get a loan exclusively online". This barrier that the company has had to overcome, according to Stan, means that "you give up 60 percent of the clients but maintain the business model", referring to the exclusively online character of Viva Credit. "Many of our clients used their cards [online] for the first time on our site", he added.
In Romania, potential clients for payday loans come from all environments, with only a "minority taking a loan from us to pay off another loan", stated Viorel Stan. The most common reasons why people turn to short-term loans include "education, repairs, and emergency expenses", added Ionut Stan. Potential clients have to "have a legitimate source of revenue" and earn no less than RON 700 (EUR 158), stated Viorel Stan regarding the criteria that clients have to meet in order to be eligible for a Viva Credit loan. Furthermore, the company has a policy that a loan cannot exceed 30 percent of a person's revenue, but that both this criteria and the RON 1,000 (EUR 225) loan limit apply per person and not, for example, per family, further explained Stan.
With more competition on the market in recent years, clients have come to expect that the first loan is given with an interest rate of 0 percent, something that a lot of companies, including Viva Credit, are now doing, said Viorel Stan. Otherwise, Viva Credit has kept unchanged its initial daily interest rate of 1.2 percent.
Andreea Tint