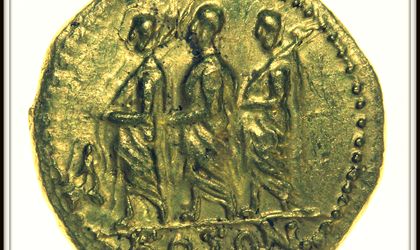 The National Museum of Romanian History recovered two gold Koson coins with the help of Polish authorities, shows a press release by the museum. The Dacian coins were returned by the Polish judicial authorities with no compensation, one of them being recovered from an auction house in Warsaw, the other from an individual in the Polish city of Poznan.
The coins are worth between EUR 800 and 1,500, according to a numismatic auction site.
So far there have been several recovery and repatriation operations of heritage assets between 2009 and 2015, leading to the following goods to be added to the national patrimony: 13 golden royal Dacian bracelets weighing 12.633 kg, 1,026 gold Koson coins, 256 silver Koson coins, two royal parade shield umbos made of Dacian iron, 38 Lysimachos gold coins emitted in the II-I centuries BC at Tomis and Kallatis, a deposit of iron tools and weapons and 3,663 silver coins and bronze.
In 2014 another recovery was made in Italy of two lots of Koson stater gold coins, and in March 2015 three such coins were also recovered with the support of the Belgian authorities.
Koson coins are the only currency emissions done by Dacian king Koson bearing a legend written in Greek, with the name and title of the sovereign issuer. They were issued in the mint at Sarmizegetusa Regia.
Natalia Martian