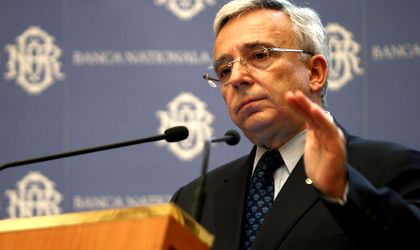 Mugur Isarescu, the governor of the Romanian National Bank (BNR), said he will do everything in his power to ensure that interests for loans in the Romanian national currency will reach a similar level to those for foreign currency loans, in order to encourage clients to opt for financing in RON and no longer be exposed to the foreign currency exchange risks.
"We will do everything in our power, by reducing the key interest rate, by ensuring the cash flow on the market, by narrowing down the variation of the interests on the monetary market to come up with interests in RON as close as possible to those in foreign currency," said Isarescu during a press conference.
He also explained that, in the case of real estate loans in RON- even though the installments are 30 percent higher than in the case of foreign currency loans- they are more advantageous since apart from the obvious costs there are also the costs coming from the fluctuation of the currency exchange.
The governor assured those present that the 30 percent higher installments for loans in RON will not put an end to the Prima Casa loan program.
"We have new European norms that discourage foreign currency loans and we have an upcoming period of low inflation which we want to last. Romania has entered the rank of low-inflation countries and lower interests for loans in the local currency. These factors will lead to stimulating the credit in the local currency. I don't see why this channel would dry up because there are resources, there are enough savings in Romania, there is the mandatory minimum reserve," said Isarescu.
Otilia Haraga