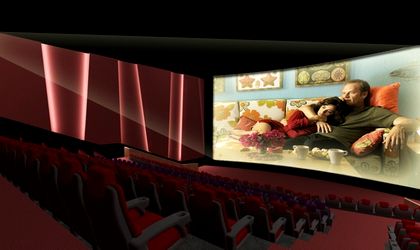 Between August 23-26, part of international film industry will move to Bucharest, at Patria Cinema, to present the latest market insights. The event is called Golden Carpathian and the organizers want to transform it into a Competitive Film Festival and a New European film market. The Golden Carpathian event aims to bring together production and distribution companies and to develop cooperation between them. On this occasion, 16 movies from 20 countries will enter a competition for the EUR 10.000 prize. An international jury composed of film directors and producers from Albania, Hungary and Azerbaijan will assess the entries.
Serbia, Bosnia-Herzegovina, UK, Croatia, Holland, Poland, Turkey, Hungary, Czech Republic, Jordan, Tunisia and Palestine are competing for the grand award, while special guests from Holland, France, UK, Russia, Moldova, Ukraine, China, Turkey, Hungary, Poland, Serbia, Croatia, Albania, Czech Republic, Jordan, Bosnia, Kazakhstan and Romania will participate to the inter-cultural movie dialogue, trying to facilitate market demands and trends, understand what the competition is up to, and forge alliances, distribution partnerships, co-production deals and industry friendships.
The program of the Golden Carpathian can be found below:
Thursday, August 23
Competition movies:
14:30 –  KILL YOURSELF  FOR ME – Gold Cut Production –Serbia: Gorana Grozdanic (Producer), Velickovic Nenad (Producer).
14:50 – THE QUIET AMERICAN RON HOLLOWAY – Engram Productions – Hungary: Moldovanyi Ferenc (Producer).
15:10 – REMEMBERING BANAT TRAIN – RTV of Vojvodina  – Serbia: Mrdja Djura (Director/Producer/ Editor in Chief), Perovic Vladimir (Director/Producer) and Siladji Ksenija (Producer).
15:30 – THE NURSE – KUZEY FILM PRODUCTION  – Turkey: Turhan Bilge Elif
Projections
16:00 – TUNISIAN STORIES, director: Nada Mezni Hafaiedh
17:30 – GOING BEYOND, director: Dafne Jemersič
Friday, August 24
Competition movies:
10:30 –  YALLAH! – Mind Riot Media – Czech Republic: Eslam Farid (Director) and Polakova Ivy (Art Director)
10:50 –  LIFE AS A GIFT – New Day L.T.D. -Ukraine: Berezhna Natalya (Administrator), Berezhnyi Oleskii (Producerr) and Khilman Anton (Executive Producer)
11:10 –  MICHAEL ROWE – Association King Pepe Film Production -Serbia: Garcia Basilio Natalia Esteli (Production Assistant), Tesic Katarina (Scenarist) and Rajcevic Sofija (Director)
11:30 – HEL – Amondo Film – Poland: Lewandowska Marta (Producer), Tarasiewicz Pawel (President), Miros Marek (Vice President), Priwiezeincew Katarzyna (Director) and  Thuringer Clemence (Photography Director)
14:30 – THE MILL – Jordan Pioneers  – Jordan: Haddad Khaled (Producer/ Director) and Naser Dina (Producer)
14:50 –  THOUSAND – H.E.F.T. Production –Bosnia and Herzegovina: Sahinovic Almir (Producer) and Djuric Nenad (Director)
15:10 –  MAHASSEN – Leyth Production – Tunisia: Nada Mezni Hafaiedh (Director) and Mohammed slim Hafaiedh (Producer)
15:30 – THREE WAY WEEK – Approaching Fish Production – UK: Bruno Coppola (Director/Producer) and Laureen Vonnegut (Director/Producer)
15:50 –  BLACK DOGS – Bastards Production -Serbia: Vasiljevic Vladimir (Producer), Bukvic Ivan (Director/Writer) and Savic Biserka (Writer).
Projections:
16:10 – OPHELIA'S  FLIP, Director: Tjasa Ferme
16:30 – TENSION, Director: Filip Sovagovic
Saturday, August 25
Competition movies:
10:30 –  SINLESS CITY – Ishtar Creative Productions -Palestine: Al-Juneidi Laith (Director)
10:50 – SECOND HAND LIFE – K.F. Art Family – Holland /Bosnia and Herzegovina: Sisic Sahin (Director), Soezen Kadir (Producer), Sinnaeve John (Producer), Anila Gajevic (Producer) and Sisic Amina (Production Assistent)
11:10 – MEDITERANEAN BREVIARY – Zona Sova – Croatia: Filip Sovagovic
Projections:
14:30 – THE INVISIBLE POLICEMAN, Director: Al-Juneidi Laith
15:30 – REALITY, Director: Dafne Jemersic.
Oana Vasiliu