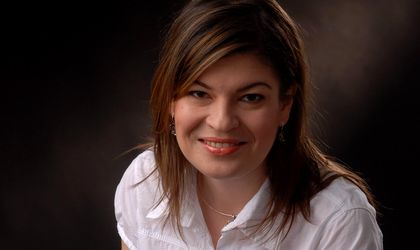 "2014 is the year of a shift in paradigm in the media industry. As far as the digital is concerned, we are stepping into the age of programmatic trading platforms, as clients, agencies and publishers are highly interested in  efficient real-time tools for trading digital space, in precisely profiling the online customer- the digital is the medium wherefrom this type of buying will propagate in the future to other mediums that little by little are undergoing digitalization, whether we are talking about television (we are already seeing this phenomenon in the US) or the OOH," said Alexandra Olteanu (in picture), managing director, Initiative Media.
The Romanian media market kept stable course between 2012 and 2013, standing at a net value of EUR 305 million net. This year, the market is expected to maintain at the same value, according to estimations of Media Fact Book 2014, a survey carried out by Initiative Media.
"These are three years of well-deserved stability for the Romanian media market- and if we add up the positive signals during the first half of this year from domestic consumption and retail lending, we can already build a positive forecast that in 2015 we will feel the much awaited growth of the local media market," said Olteanu.
In 2013, the TV media market stood at EUR 193 million net. According to Initiative Media, the emergency ordinance OUG 25/2013 did not affect the volumes on the market since the effort to maintain within stable parameters was made by clients, agencies and TV stations that have allocated more people, time and legal resources, so that the process goes smoothly at the same quality standards.
In 2014, Media Fact Book estimates that the value of TV media volumes will keep at the same level.
The radio market stagnated while in the print media saw a 10 percent decline in 2013.
The digital was the only medium that saw growth in 2013, which amounted to 12 percent. This year, Media Fact Book forecasts the digital will soar by 8 percent.
"Starting 2014, there has been a 10 percent decline in local display volumes. Performance media (google display, facebook) is the engine of growth for the digital, with soaring rates around 25 percent in 2013 and 2014 and more recently, Real Time Bidding, which starts from relatively small volumes but posts significant annual growth of over 60 percent. This growth in the performance area proves once more the intention of Romanian agencies to optimize audience buying as much as possible," said Olteanu.
 Otilia Haraga