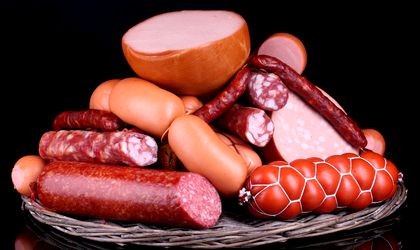 According to a Coface study of the companies operating in the meat processing industry, the revenues remain stable at sector level, and the consolidated net result tends toward the minimum threshold of profitability, based on financial data available for 2014.
The market share of the top 10 players in the sector fell from 45 percent in 2012 to 32 percent in 2014, trend registered due to the insolvency of two of the top 3 companies: Marex (second, with a turnover of RON 473 million before insolvency) and Elit (third, with a turnover of RON 317 million before insolvency).
"Despite these insolvencies, the market has a growing of nominal revenue by 3 percent in 2014, amid a relatively constant final demands, but the margin net consolidated remains almost break-even. This dynamic is explained by the fact that large and medium companies losses covers the increasing profits of the small companies, the latest being those that have monopolized most of the free market due to registered insolvencies in the sector," stated Iancu Guda, services director of Coface Romania Credit Management Services.
According to financial statements published by the Ministry of Finance, companies having "Meat processing and conservation" as main activity have generated in 2014 a 5.2 billion turnover, up 3 percent y-o-y. One third of companies registered losses or a deterioration of net results.
Large companies registering turnover of EUR 1 million and over represent a 27 percent share of the total active companies in the meat processing industry, but generate about 96 percent of revenues across the whole sector. At the same time, nearly half of active companies register a turnover of less than EUR 100,000 per year, while their share value in the total turnover is only 0.4 percent. some 19 percent of companies that have filed statements for 2014 had no activity.
The consolidated net result for 2014 at sector level was 0.2 percent, slightly below the one  registered during the previous year, of 0.5 percent. among active companies, 39 percent reported a deterioration of net result in 2014 y-o-y, about 20 percent of them going from profit to loss.
While meat producers reached a 71 percent debt level in 2014, investments into expanding fixed assets were of only 5 percent. Companies in the analyzed sector were marked by a very small working capital in 2014, given that resources pooled on long-term marginally covered long-term investments (tangible fixed assets).
The financing method of investments performed by domestic companies in the meat processing industry is not sustainable, the study shows, with the share of short-term debt in total borrowed capital increasing to over 63 percent.
Despite the newly average debt collection period to 56 days (two times faster than the average nationwide), the negative conversion cycle remains constant at about -13 days, which means that suppliers are paid two weeks later than the actual potential of pay.
The Coface Group, a credit insurance company employing 4,400, posted a consolidated turnover of EUR 1.44 billion in 2014. Present directly or indirectly in 99 countries, it secures transactions of 40,000 companies in more than 200 countries. Each quarter, Coface publishes its assessments of country risk for 160 countries, based on its unique knowledge of companies' payment behavior and on the expertise of its 350 underwriters located close to clients and their debtors. In France, Coface manages export public guarantees on behalf of the French State.
Natalia Martian