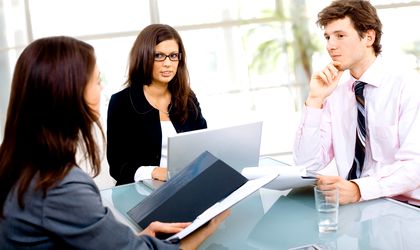 The banking sector has remained in the red in the past three years, posting estimated peak losses of close to EUR 500 million in 2012 alone, while the economic recovery remained subdued. Offering tailored lending options and addressing unexplored industries may serve as the building blocks of a new business model that will grant future growth, say players.
By  Ovidiu Posirca
Universal banking has been the mantra under which lenders have developed their business in recent year, aiming to cover everything from consumer loans to the financing of large corporates. However, this approach seems to have run out of steam and bankers are now faced with the difficult task of identifying and exploiting the areas with high growth potential.
Oana Petrescu, partner-in-charge of the consulting practice at the professional services firm Deloitte Romania, reckons the banking system is not fundamentally loss-making, as banks in Romania swiftly adapted to the tough market conditions. She attributes lenders' losses to a surge in provisioning, following the readjustment of collateral to the new economic conditions, which should be a one-off event.
"Unfortunately, resulting profitability levels will still not be enough to make them attractive to investors until they also manage to adapt their business models to the new market and regulatory requirements," Petrescu told BR.
Specialization sought
The Deloitte partner says banks have started to re-group and specialize, but the results may come in a few years as they still have significant unamortized investments.
"On one hand, shifting the client base takes time; on the other hand, they cannot yet afford to replace their current system and processes, as it would incur an immediate expense. The same way, some of the branches in locations without enough potential cannot be closed as this would also mean an immediate expense," says Petrescu.
She predicts this process will emerge in two to three years, as by then banks should have already developed the required competences to make this process fluid and adjust more easily to the market. Reducing the business network may prove insufficient to remain competitive in the aftermath of the financial crisis, and the approach to lending activity also needs to be adjusted.
 "I think the banking system has taken important steps in adapting to the new realities and this will continue," said Petre Bunescu, vice-president of the Romanian Banking Association and deputy general director of BRD – Groupe Societe Generale, last week, during a conference organized by the weekly Finantistii.  "The model of universal bank applied in Romania for such a long time has proven its resilience. In the coming period, banks will continue to play an important role, but will have to adapt to the new realities by adjusting their business networks." Since 2008, the banking industry has seen some 10,300 jobs lost and closed close to 1,000 branches across the country.
Bunescu said bank branches can still represent some banking activity. He called for the standardized approach to lending to be scrapped and said banks should in turn offer tailored solutions for SMEs and large corporates.
Valentin Lazea, chief economist of the National Bank of Romania (BNR), commented that banks should focus more on providing project financing in agriculture and energy. Lenders can offer bridge financing for EU-funded projects, he added.
"The banking model has to shift from retail to corporate lending. Locally, banks have put too much focus on serving households," said Lazea during the Finantistii conference.
The BNR economist cited real estate as the only over-indebted sector, while services, commerce and manufacturing are growth sectors for banks.
"Without equity no banking model will be viable in the future," argued Florin Pogonaru, head of the Romanian Association of Businesspeople (AOAR) during the Finantistii event. "As entrepreneurs, we live in times with an acute lack of equity."
Banks should diversify funding sources
Lenders with foreign capital, including a handful of subsidiaries of Eurozone-based banking groups, controlled close to 82 percent of assets, which reached RON 365 billion (EUR 82 billion) at the end of 2012.
Romanian banks have historically been among the least dependent in the region on domestic savings, which stood at a little over 50 percent. This, combined with a loan-to-deposit ratio of around 125 percent, suggests weak growth prospects, according to Petrescu.  She said the alternative financing comes from the external market, driven mainly by parent financing or associated financing in Romania.
"Finding alternative financing sources will definitely help banks change their business models, giving further space to lending to pick up growth. Right now, the central bank has ring-fenced Romanian banks and protected them so that the system has enough capital and access to financing," said Petrescu.
She added that once back in the black, banks will have enough resources to complement EU funding and support economic growth. However, lenders may be forced to find alternative financing sources on the long term, because the competition for financing will be fiercer. The ARB is currently lobbying for a change in the law to make covered bonds (covered by the asset portfolio) implementable, which should decrease pressure on parent funding.
Over the past two years Romanians have been tempted to save, as banks have rolled out campaigns advertising advantageous interest rates on deposits in the local currency. This year, however, deposits may lose value due to the estimated inflation level of over 5 percent in the first semester. Furthermore, it remains to be seen how Romanian savers will perceive the Cypriot bank debacle, where some savers are set to lose money.
Future banking employees
Moving towards a new banking model will require employees to understand better the impact they have on the profitability of the organization, Petrescu said. "They will need to have strong financial competence, to understand both the client's financial position and what the profit levers are for the client, product or branch where they work. Bankers should also be well informed, articulate, with a broad span of interests and knowledge, as well as very flexible. Ideally, people should come with these qualities as a result of their studies, but banks don't have the time to wait for education reform," said the Deloitte partner.
Lenders will have to train their employees and offer them the right instruments and should pick people who like working with customers and helping to solve their problems, concluded Petrescu.