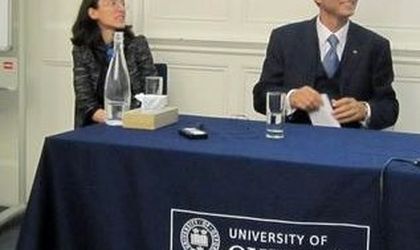 According to the Oxford University news section, Romanian language will be taught at the prestigious university for the first time, as a lectorship in Romanian has been set up in the Faculty of Linguistics, Philology and Phonetics.
The post has been funded by the Romanian Ministry of Education and was launched in Oxfordthis week by the Romanian ambassador to the UK, Dr Ion Jinga.
The prospect of learning Romanian has proved popular – more than 20 students have already signed up for Romanian classes. Students will also be able to take an exam in Romanian Language and Linguistics as part of Linguistics or Modern Languages courses, and study Romanian in graduate courses in Linguistics.
There are currently 82 Romanian students at Oxford, of which half are undergraduates.
Oana Vasiliu