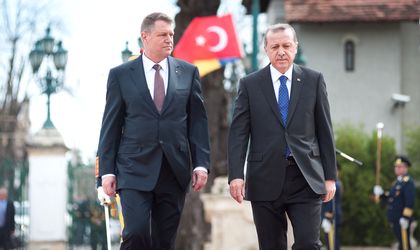 President of the Republic of Turkey Recep Tayyip Erdogan on Wednesday called on Romanian business people to make investments in Turkey, but also the Turkish business people to invest in Romania, according to Agerpres.
"We make sure all the conditions are met both for our investors and for the foreign investors. We also invite the Romanian investors to make investments in Turkey and we invite the Turks to make investments in Romania. (…) Moreover, you can make investments on third markets. This is why our institutions are ready to grant all their support to foreign investors," the Turkish president stated on Wednesday in a speech held at the Romania-Turkey Business Forum, where he participated together with Romanian prime minister Victor Ponta.
He spoke of the great infrastructure projects developed in the Bosphorus area, but also of the results of the economic reforms in Turkey, initiated in 2002.
"Starting 2002 until present, we have ensured in our country stability, confidence, based on the economic reforms we carried out. (…) When we came at rule 12 years ago, we had debts, and now we are the ones offering loans. (…) Over the past 10 years, we have managed to become a country drawing very significant investments and our economic power has increased 12 times. We strengthened the country's economy, the banking system. Think of how our financial institutions were 12 years ago, but now they can compete with other financial institutions in the world," the Turkish president said.
Recep Erdogan also mentioned the health sector, pointing out that "almost 400,000 patients come to Turkey for treatment" each year.
He underscored that Turkey wants peace and prosperity in the Black Sea, Caucasus and the Mediterranean areas, and that he will insist on the EU accession "in spite of all the political obstacles".
Also on Wednesday, president Klaus Iohannis said he had asked his Turkish counterpart Recep Tayyip Erdogan to wait for the conclusions of a new feasibility study for the High Voltage Direct Current (HVDC) Interconnection Link between Romania and Turkey.
Apart from president Iohannis, prime minister Victor Ponta as well met Turkish president Recep Tayyip Erdogan on Wednesday, their meeting at the Government's Victoria Palace having lasted more than one hour, instead of the 15 minutes scheduled. PM Ponta said the bilateral relations between Romania and Turkey reached an unprecedented level, which must be improved in the coming period.
Staff