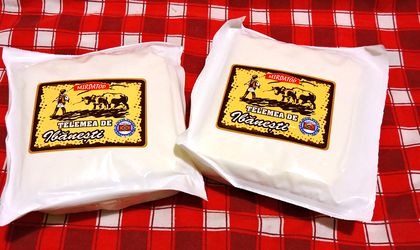 Romanian Ibanesti cheese (Telemea de Ibanesti) has been included on the European registry of products with protected designation of origin (PDO), according to a press release from the European Commission.
It is the first Romanian product to be included on the list, with the Sibiu salami (Salam de Sibiu), and the Topoloveni plum jam (Magiun de prune Topoloveni) being on the protected geographical indication (PGI) list.
The Ibanesti cheese is a dairy specialty made with milk from cows raised the Gurghiu valley area, salted with brine obtained from salt water fountains in the Orsova locality. The cheese can only be produced in the Gurghiu, Hodac and Ibanesti localities in the Mures county, which are part of the Gurghiu valley, where the production method has been passed down through generations.
The PDO EU scheme covers agricultural products and foodstuffs which are produced, processed and prepared in a given geographical area using recognized know-how. At the same time, the PGI scheme covers agricultural products and foodstuffs closely linked to the geographical area and at least one of the stages of production, processing or preparation takes place in the area.
Andreea Tint