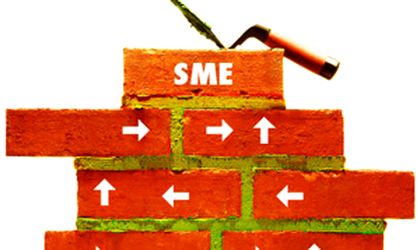 The government is looking to increase the number of active SMEs by 40 percent, to 670,000, with 3.2 million employees in total, by 2020, according to a strategy project currently in public debate.
"The main result indicator for 2020 is the net sum of economically active SMEs, which should be higher than 670,000 enterprises in Romania. The government considers that an increase of 41.23 percent of active SMEs, in the next seven years, is a realistic strategic objective. In terms of "SME density for every 1000 inhabitants", hitting this strategic target means reaching a level where there are 36 active enterprises for every 1000 inhabitants in 2020, compared to 21.94 enterprises in 2012. In terms of total number of people employed, the government believes we have to go over 3.2 million active SMEs employees", according to a proposal submitted to the Department for SME, Business Community and Tourism.
Read Business Review's practical guide for SMEs
At the end of 2013, Romania had 474,416 active SMEs which means in the following 7 years the state must create conditions for another 200,000 to be started. The SMEs contribution to the economy is also expected to increase by 41 percent in the next seven years, to EUR 38 billion.
"The strategy establishes the Romanian government's policies for the next seven years to support the intensive and extensive development of the SMEs sector, with a special emphasis put on enhancing the number of active SMEs on the local and external markets, as well as increasing SME density, especially in the areas where this indicator is below the European average and thus limit regional disparities", according to the project.
The economic sectors the strategy highlights to receive government support are, in order of importance
– food industry,
– clothing and fashion
– leather industry, shoe manufacturing, fur;
– medicine and pharma production;
– non-metallic mineral-based products;
– metal industry,
– electrical equipment,
– other industrial activities.
Creative industries that will receive government support:
– publishing and editing;
– cinema and tv
– music industry
– IT services
– architecture and engineering
– technical analysis
– research
– advertising
– other educational, scientific and technical activities.
In order to improve these businesses' access to financing, the measures laid out in the government's strategy are meant help SMEs with programs for starting, developing and sustaining themselves. At the same time, the authorities are looking into creating a seed capital fund (which finances businesses in early stages of development) and pass new laws that would help design new financing options.
In 2016, the state also wants to apply a stimulus scheme for commercial banks who give loans to SMEs.