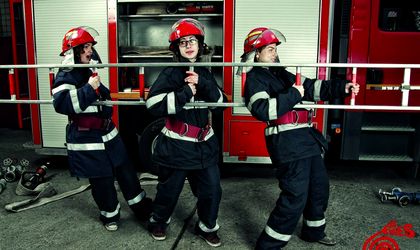 The Romanian Fire Fairies team and more than 400 others from all around the world have entered the competition Mongol Rally, a charity race which starts in UK with the end point in Ulan Bataar, Mongolia. Three Romanian girls driving a fire van will travel over 18.000 km in order to raise money for the Lotus Children's Centre Charitable Trust, an association which works with vulnerable children and families to provide them the basic human rights of shelter, food and education.
The Mongol Rally is a car rally that begins in Europe and ends in Ulan Bator, Mongolia and it is described as the "greatest adventure in the world" The rally required competing vehicles to have an engine displacement of less than 1,200 cc to reflect the increasing difficulty of obtaining a car since the Mongolian government stipulated that all competing vehicles must be less than 10 years old.
The rally is designed to be an adventure for the participants, and not a traditional race. The organizers ("The Adventurists") are careful to point out that racing on highways is illegal, and that no recognition is given to the first finisher. There are other differences from mainstream rallies, particularly the fact that no support team is provided and no other arrangements are made such as for accommodation.
Fire Fairies, the Romanian team, decided to use in this competition a fire car because inMongoliamore than 4 million hectares of woods are burnt down by the spontaneous fires and the local authorities need support. The team has to gather EUR 25.000 for the acquisition of the car, fuel and airline tickets before July 12, when the Mongol Rally begins.
Since 2004 teams on the Mongol Rally have raised nearly GBP 2 million for charity.
Every team has to raise a minimum of GBP 1000 for charity, at least GBP 500 of which goes to the Official Rally Charity.
More information about the Fire Fairies can be found on their blog and their Facebook page.
Oana Vasiliu