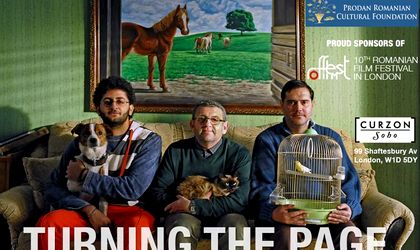 The 10th Romanian Film Festival in London: TURNING THE PAGE brings you the latest, the most exciting and the most illuminating productions from the ferment of the Romanian film industry. Shown for the first time in the UK, these films tell the story of a rapidly evolving society.
Hugely popular actors and immensely insightful directors will lend their presence to the screenings within the 10thRomanian Film Festival in London: actor Victor Rebengiuc (Japanese Dog), actor and director Horatiu Malaele (Happy Funerals), actor Bogdan Dumitrache (When Evening Falls On Bucharest Or Metabolism), actors Dragos Bucur, Alexandru Papadopol and Dorian Boguta (Love Building), director Stere Gulea (I Am An Old Communist Hag), and director Adrian Sitaru (Domestic). Join us on the red carpet!
TURNING THE PAGE is a phrase which speaks of an end, but, more importantly – a beginning. Romanian film makers wrote a new chapter of international film making with the New Wave. Now the films on show look back past the New Wave in terms of technique, and forward in terms of content, social analysis and storytelling. Above all, these stories speak of a new understanding and a new relationship with the outside world. The windows have been thrown open! We're turning the page!
Tickets are NOW on sale. SEE PROGRAM HERE: http://rofilmfest.com/c/1/programme