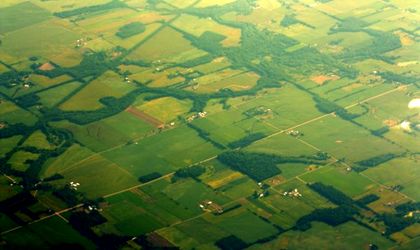 Romanian authorities hope to stimulate small local farmland owners who don't work their land to lease their land to active farmers by offering them a 20 percent higher subsidy compared to the one they would usually be receiving, said Agriculture Commissioner Dacian Ciolos this Monday.
This incentive measure is included in the proposed reform of the Common Agricultural Policy (2014-2020), said the commissioner following a meeting with representatives of local farmers organized by the Romanian Ministry of Agriculture and Rural Development (MADR).
Ciolos explained that starting 2014 small farms could receive the direct payments per hectare under the form a fixed annual sum per farm.
"This is the simplified payment scheme which we have proposed for small farms. If among those owners of small farmland plots there are, let's say, old people or people who live in urban areas who own farmland and received the subsidy without actually working their land, these people will be stimulated to either sell or lease their land to an active farmer (…) by increasing the subsidy they receive by 20 percent," he explained.
The measure will offer small farmland owners who kept the land because of the subsidy they received, the incentive to lease the land on the long run to active farmers and thus lead to land consolidation and an increase of the average farm size, explained agriculture minister Daniel Constantin. He added that this scheme is a solution especially in the context of the liberalization of the Romanian farmland market starting January 1st 2014 by encouraging owners to lease their land instead of selling it.
Read more about the Romanian farmland market in next week's print edition.
Simona Bazavan