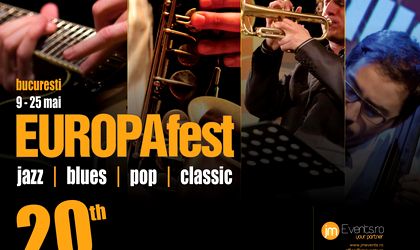 On  April 30, EUROPAfest celebrates International Jazz Day, held under the UNESCO patronage through three dedicated events: Bucharest International Jazz Competition and the launch of two jazz websites www.jazzcompetition.ro and www.jmEvents.ro.
Arrived at the 7th edition, Bucharest International Jazz Competition, ranked by BBC among the 3 top jazz contests in Europe, brings between May 18-25 concerts, workshops and jam sessions. The event stood out on the jazz market as an opinion leader, always eager to offer to its audience a unique mix of jazz productions and creations. In 2013, over 27 bands from 22 countries, from USA to Indonesia, will transform Bucharest in the capital of world jazz.
jmEvents promotes professional jazz in Romania and subscribes to the values promoted on International Jazz Day: unity, peace, freedom of speech and eradicating discrimination. The day of April 30 reunites communities, artists, jazz lovers from around the world in order to celebrate and learn about the art of jazz, its roots, future and impact. International Jazz Day contributes to the social and cultural development through music. Jazz is seen as a tool for education, dialogue and communication. The energy and liberty of jazz unite continents, on this day taking place over 100 events, in several countries of the world: concerts, conferences, film projections, photo exhibitions. Great names of the music annually join to this jazz celebration, among which Herbie Hancock, John Beasley, Tony Bennett, George Benson.
Oana Vasiliu