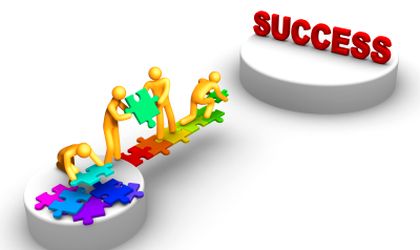 Entrepreneurship in Romania has to overcome obstacles that Western countries are not familiar with, after communism crippled private initiative and entrepreneurs are only just learning lessons that in other countries have long been taught. But a free spirit and a daring mind can prove to be more successful than established patterns in the West, think the experts asked by BR.
Dragos Roua, online entrepreneur
"Paradoxically, I have noticed in Romania a more obvious entrepreneurial spirit. Maybe this is also because of the fact that we did not have a very rich entrepreneurial culture. Romanian entrepreneurs take risks, they are not afraid, they are experimenting, doing very many things, they are active. In more regulated social systems, USA, UK or even New Zealand, when one receives pretty much from the system (from access to education up to social assistance), you don't really have the heart to risk. A good position in a stable company is considered much more attractive by many over there. "
Bogdan Iordache, Wembrio
"In Romania, entrepreneurial culture is only coming into being, to be optimistic at least. We are living in a society where "money is the devil's eye" and businessmen are many times seen as mobsters. After 50 years of communism and 15 years of rapacious capitalism, it is hard for an entrepreneurial culture to appear out of the blue, like the one in the West, where failure is not the end of the road but an opportunity to learn and targets are not set from one day to the next, but on the long term."
Calin Stefanescu, CEO TjobsRecruit
"The entrepreneurial models offered by Western countries differ from the Romanian reality. The first difference is that the Romanian economy, in its present form, is still very young. An entrepreneur in Romania comes against much greater challenges. He/She must discover some things that in the West have long been discovered, such as organization, procedures, business ethics, deadlines. But the greater the challenge, the greater the opportunity.
The success of a business is not influenced by its geographical location, as long as the model can be extended. Position can be an opportunity, In Romania, it is cheaper to start a business than in the West, but you have to earn investors' trust. However, through transparence, one can overcome this stage very rapidly. "
Marius Ghenea, business angel
"The Romanian entrepreneurial culture is in an emerging state, given that all the development we can talk about in Romania has only a history of 20 years, compared to several hundreds of years of uninterrupted entrepreneurial development in Western Europe and the United States. Moreover, there are weak links in the local ecosystem: one would be entrepreneurial education which is still at the beginning, and the other would be financing, where there is not the same potential as in the West.
Indeed, I have seen in Romania projects that promise to be scalable, but there is still work to do before we can talk of a true community. There are elements that young entrepreneurs in Romania should digest better, in other words a better education is needed in the business area."
Alexandru Lapusan, CEO Zitec
"First of all, we are much more negativistic and critical of the others' ideas and we are very rarely offering positive feedback. Also, we trust others less and strange phenomena appear when the idea of a business seems much more important than the execution, when in fact things are quite the opposite (for instance, "I'm not telling you my idea because I know for sure you will steal it," or "I'm telling you my idea, you put it into practice, and even though I can only get involved part time, I want to have the major share package.")
In Romania, the main model is the one where there is only one entrepreneur, which can be seen even in numerous successful Romanian companies.
This "one-man show" cannot last and the absence of the entrepreneur nearly guarantees the failure of the business- so the risks that an investor runs are very high. The more businesses backed up by an entrepreneurial team, with related competencies (coordination, technical, sales, financial) on top of the entrepreneurial spirit, the more we shall see more successful online initiatives. Such a team will obtain financing easily, it matters less what they initially set out to do: a good team will find solutions and will make it eventually."
Otilia Haraga