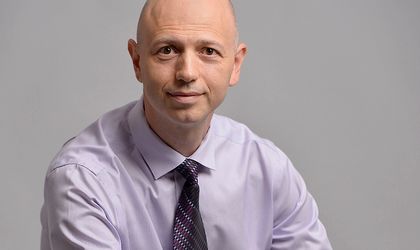 Gecad Group, controlled by Romanian entrepreneur Radu Georgescu (in picture), has announced it has sold the full stake of international e-commerce solutions provider Avangate to California-based private equity firm Francisco Partners.
The value of the transaction is confidential.
Throughout the process, Avangate was advised by Pagemill Partners, while Francisco Partners was advised by Navidar Group LLC.
"Avangate is imposing itself in front of 'traditional' players and is dictating a radical change on the software, cloud and SaaS markets, which are continually expanding," said Carl Theobald, CEO of Avangate. "With the acquisition and injection of capital insured by Francisco Partners, we will accelerate the global expansion of the company and will bring new promotion opportunities for Romanian employees and not only," he added.
Francisco Partners, a private equity firm with more than USD 7 billion under management, intends to inject fresh growth capital in the business to fuel further expansion, product development and growth.
Avangate was founded in 2006 by Georgescu, who was also its majority shareholder through his Gecad Group. This ishas been the third exit for the Romanian businessman, after selling the RAV anti-virus to Microsoft and online payment processing company Gecad ePayment to Naspers.
The businessman's strategy was to move the international headquarters of the company to Silicon Valley, which resulted in Avangate becoming a major ecommerce player in the North American market.
"As we all know, Romania has great technical talent, a very innovative mindset and is the perfect place to launch new businesses. Taking companies to Silicon Valley provides them with the ideal mix of great technology talent and visionary business skills. I hope I will be able to nurture more great companies and introduce them to the world through the Silicon Valley", says Radu Georgescu.
Georgescu has over 20 years experience in building global technology businesses, being one of the most well-known Romanian serial entrepreneurs and angel investors.
In 2003, Georgescu made an exit from his security software venture, RAV Antivirus, which he sold to Microsoft.
This was followed by the acquisition of his second venture GECAD ePayment in 2010 by Naspers, a South African internet and multimedia company.
Otilia Haraga