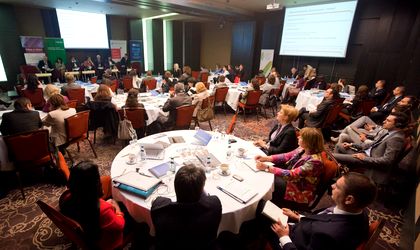 Players in the energy business are growing concerned as the new energy law contains some controversial provisions that block power trading. The country needs fresh generation capacities and smart grids could make the sector more efficient. These were some of the pronouncements made by energy and banking specialists who attended the third edition of Focus on Energy, organized by Business Review last week.
By Ovidiu Posirca
In July Romania enforced the energy law that transposed EU regulation of the third deregulation package for the natural gas and electricity markets. However, certain issues have arisen in the law that may force foreign investors to reconsider their investments in Romania, warn specialists.
Energy needs predictability
Power producers are now obliged to trade their output on the centralized OPCOM platforms. Authorities argue this will make trading more transparent and this has certainly happened for state-owned companies. Hidroelectrica, the largest hydro-power producer in Romania, was able to sell electricity at market prices for the first time in years, after it dropped disadvantageous contracts with several private firms.
Hidroelectrica was also able to cancel supply contracts of cheap energy after entering insolvency, but it impacted investors' perceptions of the company.
"A few hundred million euros have gone down the drain due to the Hidroelectrica deal. This is forgone money," said Nicola Bogdanovic, manager of generation development at Repower Vanzari Romania, a Swiss-based utility. The firm plans to make the first acquisition of a generation asset next year.
Bogdanovic said that most of the good projects in large hydro power are still under the influence of Hidroelectrica.
Contracts need helping hand
The buoyant renewable sector has been severely hit as the law hinders the closing of Purchasing Power Agreements (PPAs), which makes projects unbankable.
"Producers can't sign contracts that facilitate the financing," said Catalin Micu, managing associate at law firm Zamfirescu Racoti Predoiu (ZRP). He added the law further states companies in the same group can't use the electricity produced by group companies. This will lead to an artificial spike in prices.
"Investors are reluctant to invest in Romania as they can't set business plans that ensure reasonable predictability for the investment recovery," warned Micu.
The off-exchange provision affects both renewable and conventional sources and banks are waiting to see what happens with the law, according to Valeriu Binig, director, financial advisory services, energy & resources, corporate finance at professional services firm Deloitte Romania.
"The bankers said that with this provision, the files they are analyzing have been set aside. (They say) until this provision is clarified, we can't finance," said Binig.
Ioana-Anca Gheorghiade, executive director, project finance at BCR, stated that contracts for power and green certificates are needed to make the project revenue predictable. She said BCR has financed grid investments and is open to funding co-generation projects. BCR has financed 125 MW in renewable, including three projects in wind, several in small-hydro and one photovoltaic park. The PPA issue could be solved either through clarifications in the secondary legislation or through the setting-up of a special market for these contracts at OPCOM, according to Alexandru Sandulescu, general director, general directorate for energy, oil & natural gas at the Ministry of Economy.
The energy firms, backed by the American Chamber of Commerce, the Foreign Investors Council and other business association, are currently negotiating a draft bill to accommodate the PPAs with the energy regulator ANRE. A special license could be set up for PPAs or a special platform could be implemented on the OPCOM that allows long-term trading, according to Lusine Caracasian, director of the cooperation and programs department at ANRE. However, it still remains uncertain when and how is the law going to change.  "The law looks like this because a special law for state-owned companies to sell at competitive prices wasn't desired," said Otilia Nutu, energy & infrastructure analyst at Expert Forum, a Romanian think tank. "The regulation shouldn't have applied to private consumers."
Lucian Palade, electrical energy market consultant, stated the main issue of the law is that producers can't export as they are stuck in the wholesale market.
"As the law is right now, no matter how many national champions we may have, they can't export," stated Palade.
Grids can be smart
Romania doesn't have flexibility in the grid and around 70 percent of the local renewable problems could be solved by looking at this, stated Bogdanovic of Repower. Worldwide power consumption is expected to double by 2050 from the 1990 level, while carbon emissions need to be halved, so a smart grid has become a necessity, according to Florin Anghel, vice-president of Schneider Electric Romania, the energy management firm.
"In Romania, up to now, we have done substation automation, secondary distribution systems and the connection of renewable projects to the national system," said Anghel.
The smart grid system facilitates an easier integration of renewable sources, keeping power consumption efficient and allowing electrical mobility, according to Emil Constantinescu, project manager at Enel Romania.
The Italian utility operates tens of millions of smart meters, designed to increase the quality of service to customers, while reducing operational expenses. Constantinescu said that 80 percent of the power meters in Europe should turn smart by 2020, according to an EU directive.
Romania currently has 44,000 smart meters for 9 million power consumers, according to Calin Vilt, an independent expert and member of the smart grids coordination committee set up by the Ministry of Economy.
He added that the main issue Romania has to face is an increase in power consumption, but specialists have already come up with solutions.
"The output from wind farms in Dobrogea could be used in irrigation systems, for consumption at nighttime," said Vilt. He suggested the acquisition of electrical appliances needs to be stimulated in households as another measure to increase consumption.
Smart grids allow software consumers to use electricity in a more efficient manner, during a period when the prices are expected to rise.
Romania should have 7.7 million smart meters by 2020, covering electricity, centralized heating, gas, water, waste and other utilities, according to the smart metering roadmap.
Vilt said the ANRE had carried out a cost-benefit analysis of smart meters and concluded the technology is economically wise.
Dobrogea needs cautious approach
Most of the wind farms in Romania are concentrated in the Dobrogea region, south-east Romania, where the winds are strong. This year the Czech utility CEZ will complete the Fantanele-Cogealac wind farm, which is the largest in Europe. The 600 MW farm is located some 17 km off the Black Sea coast.
However, the difference between the investment speed of the power generation sector and the grid development is visible in Dobrogea, according to Binig at Deloitte.
"We have thousands of MW concentrated in an area that is practically a peninsula, an area where excessive power needs to be exported to the rest of the country, through a few lines that have a limited thermal capacity," said Binig. "These projects are moving forward, and the grid operator can't cope with the speed of setting up new lines to evacuate the power."
Binig said that investors that are now connecting projects in Dobrogea receive a connection agreement warning them that fewer capacities may go online. Under certain conditions, it can be reduced to zero. Furthermore, investors will have to contribute financing to strengthening the grid and in future power lines, which are not in the area. "Investors want to know what they have to pay and when. Transelectrica says that it hasn't completed the feasibility studies for the respective lines," said Binig.
Romania had 1,300 MW of incentivized wind capacities by August, according to Transelectrica.