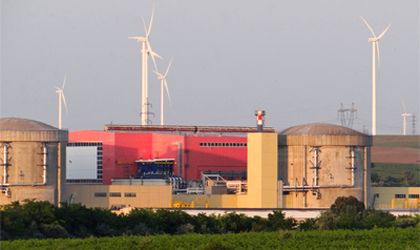 Romania needs to replace its worn out power generation capacities with efficient ones, which requires an overall investment of more than EUR 18 billion by 2020, experts say. However, the troubled economy and lower energy prices represent serious challenges for the country, which may become an energy importer by the end of this decade.
By Ovidiu Posirca
The state remains a key player in the generation segment, controlling 93 percent of the assets, but players say they require massive investments to keep up with the annual average increase of 2 to 3 percent in demand. In distribution, the situation is better as foreign utilities are bidding for state-owned assets and have started to upgrade them.
Dimming generation
The situation seems to be critical for thermal power plants, where 53 percent of the 4,900 MW in capacities are more than 30 years old, according to the Romanian Energy Strategy. Worn out hydropower groups exceed 6,000 MW and represent 31 percent of the total installed capacities. Around 65 percent of the power distribution networks need upgrading (electrical lines and transformation units).
"In classical technologies the era of large thermo groups has gone, as they are not flexible and rely on high consumption of thermal energy," Adrian Borotea, directorate member of CEZ Romania, told BR."It is time for small, flexible groups, distributed across the territory, close to consumers."
Eric Stab, president of GDF Suez Energy Romania, stated last week during a CEZ event on energy that around 5,000 MW of assets in thermal generation need to be built by 2018-2020.
However, nuclear remains in shape as the two reactors at Cernavoda provide 20.3 percent of the total power output.Romaniaplans to build two additional reactors, in a period when some EU members, the largest being Germany, have scrapped their nuclear ambitions. "Realistically, one of them has good financial and economical chances," said Borotea.
In spite of the worn out capacities, Romania exported 1.9 TWh of electricity last year. On the long term, this is likely to change if the gap in capacities is not filled.Romania may become an electricity importer by 2018 if new assets are not put in place, according to Enel research.
Pondering investments
PM Victor Ponta has described the energy sector along with agriculture as the local domains with high potential for economic growth.
Romania has been able to attract major investments in the renewable sector in the last three years, mainly wind, as it tries to increase its output from green sources. The bulk of investment has come from foreign utilities that are already present locally and other investors located in Western Europe. Most of them were attracted by the natural conditions and the tradable green certificates, granted for every one MW produced. Last year, power producers got close to EUR 100 million from the certificates that are currently trading at the ceiling price of EUR 57.
This was a support scheme that allowed Romania to add 1,000 MW in wind alone between 2010 and 2011 and another 900 MW are expected this year, said Ionel David, president of the Romanian Wind Energy Association, during the CEZ event. He described the progress in wind as "Chinese" style, adding that Romania started from 14 MW in 2009 and will reach an estimated 3,000 MW next year. Players in the energy business suggested that the government needs to set up some kind of support mechanism for conventional sources, to make them attractive to investors.
"The utilities do not seem to be so much interested in developing conventional capacities," said Cosmin Stavaru, partner at law firm Bulboaca & Asociatii. He mentioned Petrom's 860 MW gas-fired power plant as the only significant investment made recently. Romania's failure to attract investors for the Cernavoda project is another example.
The partner said this happened because of the focus on renewable sources, but also due to public authorities' mismanagement of incentives such as public-private partnerships and EU grants.
State guarantees could be used in certain situations, but the European Commission needs to approve this type of state aid, according to Stavaru. He pointed out that it tookRomaniatwo years to obtain EU clearance for the renewable support scheme.
"To attract investors it is necessary to have a very stable and clear legal framework. If laws are changed and amended all the time, the country loses the trust of investors," said Alfonso Otero Zapata, general manager at Bogaris Romania, a company that is developing several wind projects in Romania.
Jan Veskrna, directorate president at CEZ Romania, said there is a problem of lack of investment in new capacities, but renewable sources can't solve this issue alone. "Renewable should not be the future of generation and heat in Romania," stated Veskrna during the CEZ event last week.
Romania has planned the Tarnita-Lapustesti pumped-storage hydropower plant, which will have an installed capacity of 1,000 MW. It requires EUR 1.1 billion of investments and should allow more renewable assets in the system.
The price of electricity in Romania is 30 to 45 percent lower than the EU average, placing Romania just ahead  of Bulgaria, which has the lowest prices.
"The Tarnita-Lapustesti project is not viable with today's prices of EUR 50-60 for one MW and the current system service prices from Transelectrica. Realistically, it doesn't add up and there are better investment options,"  Borotea told BR.
Balancing deregulation and profits
Romania approved this year a new energy law and has set a clear timetable for the deregulation of prices in electricity and gas. In electricity the process will be completed for companies and households by 2013 and 2017 respectively. In natural gas, regulated prices will be phased out by 2014 and 2018.
"Operators in the gas market have said on numerous occasions that they can't invest consistently in support techniques, because the free market mechanism can't guarantee the investment recovery," said Catalin Micu, managing associate at law firm Zamfirescu Racoti Predoiu (ZRP).
He added that banks will finance this development if operators can prove a reasonable recovery period for their investments. "Price liberalization can be considered a beneficial infusion of oxygen. However, the immediate effects of price deregulation followed by investments in the sector could lead to a sustained increase in the prices paid by consumers," explained Micu.
The potential of this measure can be assessed more accurately after the secondary legislation for the implementations of the calendar is approved, according to Cosmin Stavaru, partner at law firm Bulboaca & Asociatii.
"The investors certainly need a plausible and predictable calendar in order to manage their own business plans. They will also take into consideration that the authorities might intervene, in certain situations, in the price determination process and that the generators will be taxed from 2013 for the additional revenues obtained due to the liberalization process which will generate an increase in prices. The relevant legislation for said taxation is expected to be promoted this fall," said Stavaru. He added that the liberalization schedule is ambitious, but may be difficult to attain, according to market players.
Players in the domestic energy market will see profits rise as prices reach EU levels, but consumer behavior in a troubled economy may temper new investments, warns Sorin Mitel, partner at law firm Vilau & Mitel.
"If many of the industrial consumers cannot bear the burden of higher prices, they will have to reduce consumption and head towards less energy-intensive activities, which would reduce the electricity consumed," says Mitel. "The economic performance of producers would be affected and the deregulated market attractiveness for investors would be reduced." He added that investments in production efficiency and power transmission could counter this.
Market liberalization is set to increase competition, according to Marius Berariu, associate at law firm Clifford Chance Badea. He said that more changes will be seen in the gas business, as private power generators already have the option to sell their electricity on the competitive market.
Energy law needs tweaking
Romania got a European gas and power law this summer, but some issues have already arisen for companies. One is that all transactions with electricity will take place exclusively on the centralized OPCOM market.
Berariu warns that unless this provision is eliminated or clarified to allow private investors to sell electricity through off-exchange trading (OTC), they will have a more conservative stance on future developments.
"This is mainly because of the inability to secure long-term income projections, leading to difficulties in obtaining financing for the development of the projects," said Berariu. This trading provision is aimed state-owned power producers and not private ones, according to Irina Moinescu, partner at law firm Tuca Zbarcea & Asociatii.
Another provision that needs to be clarified is the probation period between the commissioning date of the first generating unit – the first turbine in a wind farm – and the completion date. Only one certificate is granted in this period. The investors will benefit from the scheme only after the full project starts production, according to Moinescu.
"So, an exclusively technical concept – the probation period should have covered only the technical testing of equipment for a relatively short period – was transformed into a commercial concept, with a significant impact on producers' income stemming from the application of the promotion mechanism," said Moinescu. The renewable sector has been mostly hit as small investors depend on the banking system to build green capacities.
"Based on the statements of good intentions from the government, and due to numerous requests from the private sector, we can soon expect a change in this bill," said Vlad Neacsu, associated lawyer at law firm Popovici Nitu & Asociatii. Stavaru of Bulboaca & Asociatii said the government was likely to amend the law in the next two-three months, but nobody can be sure when.
"If the change to the new law is not implemented fast, another formula to 'cover' the financiers' distrust could be the granting of state aid," said Micu of ZRP.
Estimating green capacities
Romania's production from green sources will make up 6.7 percent of the total energy output next year, according to professional services firm PwC. Stavaru stated that optimistic estimations put wind capacities at 2,000 MW by year end. Photovoltaic electricity generation is estimated to reach an installed capacity of around 45 MW, biomass around 30 MW, and small micro-hydro around 400 MW. Mitel of Vilau & Mitel predicted 1,900 MW in wind, 150 MW in photo-voltaic and around 1 MW in small hydro.