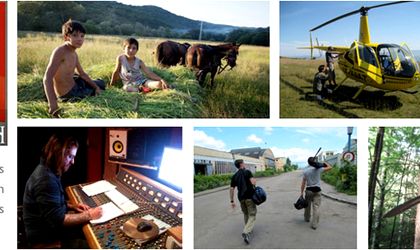 On November 15, "Decoding Dacia: Romania's Lost Heritage ", the latest movie directed by Nicholas Dimancescu, the son of the honorific consul of Romania to the US Dan Dimancescu, will be launched at Fisher Collage, Boston.
The documentary "Decoding Dacia," a CURRENCY USD/EUR 50 million film produced by Kogainon Films in Boston, Massachusetts, premiered at an event celebrating UNESCO's 40th Anniversary of the Heritage Program in September of this year. Relevant to that showing is that both Sarmizegetusa and Trajan's Forum are protected sites of the UNESCO program. The Romanian premiere was hosted by Ambassador Mark Gitenstein at the U.S. Embassy.
According to the official website of the Romanian Consulate in Boston, the film explores the legacy of the Dacian Kingdom from "past to present" through the lens of Rome's invasion and conquest between 101 and 106 AD.  All material in the film is original.  Specially featured are highly detailed 3D digital reconstructions of Sarmizegetusa, the fortress of Blidaru, the Roman bridge across the Danube, and Trajan's Forum and Column in Rome. Also important to the film is the work of noted artist Radu Oltean who crafted original illustrations depicting Dacian and Roman battle encounters.
Created as the third in a series entitled "Romania at War," the documentary production was launched in January 2011 by Nicholas Dimancescu. In May of that year while filming above Cioclovina Cave, he tragically died in a fall from a high cliff.  Inspired by his passion for exploring his Romania origins, his family and film company colleagues were determined to complete his film.
After the premiere night in Boston, the movie will also be presented at Georgetown University and at the Romanian Embassy in Washington. On December 1 the film will be screened for everyone on TVR 1, the Romanian public broadcaster.
Oana Vasiliu