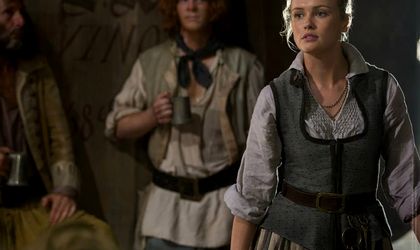 The first season of new American series Black Sails, which is based on Robert Louis Stevenson's fantasy story Treasure Island, will show actors Toby Stevens, Hannah New, Clara Paget, Jessica Parker Kennedy, Zack Mc Gowan, Hakeem Kae-Kazim and others in costumes tailored by Romanian designer Marina Draghici.
Black Sails follows the adventures of captain Flint, together with the young Long John Silver. During the Golden Age of Piracy, the feared Captain Flint brings on a younger crew member as they fight for the survival of New Providence Island. According to the first episode, "In 1715, West Indies, the pirates of New Providence Island threaten maritime trade in the region. The laws of every civilized nation declare them hostis humani generis; enemies of all mankind. In response, the pirates adhere to a doctrine of their own…war against the world."
"My concept is to combine period and modern fashion in creating a fresh and original visual vocabulary that is appealing to a contemporary audience", writes Marina Draghici about her choices regarding Black Sails costumes, while presenting her ideas in an online portfolio available on her official website.
The designer isn't at her first international series. Draghici also worked for Homeland, Dexter and Elementary series, as well as several films such as Precious, Rage, The Night Listener or The Cake Eaters.
Her international fame was made also through her collaboration with Romanian director Andrei Serban for the play Richard the 3rd at The La MaMa theater from New York.
Photo courtesy of Black Sails official Facebook page
Oana Vasiliu