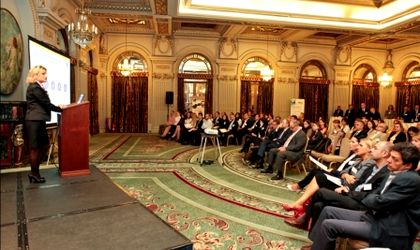 Companies doing business in Romania added more in profits last year, but the profitability indicators and the creditworthiness still remain at low levels, according to an evaluation report of companies published yesterday by ICAP Romania, the credit rating firm.
ICAP analyzed the financial figures reported by 435,152 companies in the last two years and saw that the total turnover gained 16 percent to RON 944 billion (over EUR 222 billion).
This growth was sustained by the commerce and industry sectors, which doubled their net profit and increased the turnover by 16 percent. Meanwhile, the services sector grew its turnover by 8 percent and increased the net profit from RON 0.3 billion to RON 1 billion (EUR 235 million), according to Nikos Komninos, executive director of International Business at ICAP Group.
The operating result moved up by 7.9 percent to RON 34 billion (EUR 8 billion), while the profit soared by 127 percent to RON 11 billion (around EUR 2.6 billion).
Banks still support the companies who have increased their loans by 10 percent in 2011 to RON 148 billion (EUR 35 billion).
ICAP data shows data 78 percent of companies improved or remained in the same credit risk zone, while 22 percent worsened their situation.
"The overall creditworthiness of companies in Romania is not that high," said Komninos.
He added that 22 percent of Romanian companies have a default possibility of 35 percent. On the bright side, 24 percent have only a 3.3 percent possibility to default in the next year.
ICAP Romania celebrates this week one year of cooperation with Dun&Bradstreet (D&B), which provides business information and credit risk services. On this occasion, the firms launched the credit information exchange network in Romania called ICAP Trade Exchange. This allows Romanian companies to manage their credit risk more effectively.
ICAP Group is active in 5 countries in South Eastern Europe and registered EUR 63 million in revenues last year.
In Romania, ICAP Groups operates two fully owned subsidiaries (ICAP Romania and Cycle European) that generated EUR 7 million in revenues last year. Out of the group's 1,300 employees, 400 are in Romania.
Ovidiu Posirca