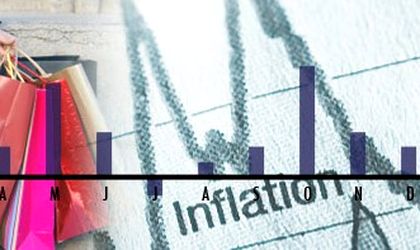 The Romanian consumer prices decline is expected to slow to a 1.3 percent at the end of July, compared with a 1.6 percent figure in June, a Reuters forecast showed.
In June the inflation became negative for the first time in 25 years, when consumer prices fell by almost 3 percent. This was due to the lowering of VAT on food and beverages at 9 percent starting June 1, which led to price drops of 6.4 percent in the food sector.
Romanian National Bank (BNR) governor Mugur Isarescu had predicted before the publication of data on inflation in June that they would indicate a price reduction of over two percentage points compared to the previous month, while the annual index will drop over 1 percent.
He reiterated that Romania cannot talk about deflation yet, since it can be assumed that prices are gradually declining and people are not buying in expectation of even larger price decreases.
All nine analysts polled by Reuters expect the central bank to keep interest rates on hold at a record low 1.75 percent at its next meeting on August 4.
Isarescu said on July 1, after announcing the decision to keep the key interest rate at 1.75 percent and reserve requirements for bank liabilities at 8 percent for RON and 14 percent for foreign currency, that BNR is taking into account a prudent reconsideration of the monetary policy in order to balance the fiscal program. These include the levels which BNR ultimately aims for the monetary policy rate, the reserve ratio, the fluctuation band, and other indicators such as net debt.
The BNR representative warned that the dosage is essential in monetary policy, given that every decision has an effect on a period longer than 1 or 2 years, and when the decision is taken, there is always a share of unknown future to be take into account.
Analysts told Reuters they expect the economy to grow 4.1 percent on the year in the second quarter and 3.7 percent for the full year.
Romania's GDP grew in real terms in the first quarter of 2015 year on year, by 4.3 percent as gross series and by 4.2 percent seasonally adjusted.
The budget for this year was based on a GDP growth of 2.5 percent. May estimates of the National Commission for Prognosis take into account an advance of 3.3 percent.
The European Commission improved estimates of Romania's economic growth in early May, by 0.1 percentage points to 2.8 percent for 2015 and 0.4 points, to 3.3 percent for 2016, due to solid domestic consumption and investments recovery, according to the institution's spring forecast.
Natalia Martian