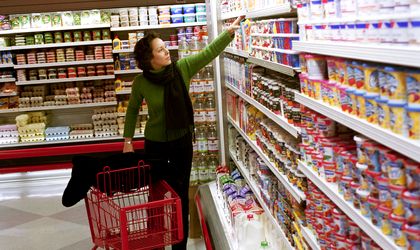 The level of consumer confidence in Romania is the highest registered at the end of a year for the country since 2010, despite a fall of 5 points (reaching 79) on the Nielsen Consumer Confidence Index in Q4 of 2015 compared to Q3 of the same year, according to a Nielsen press release. Furthermore, Romanian consumers continue to place health, job security and debt payments on top of their list of concerns and 54 percent of respondents believe that the country is longer in recession. 
The Colectiv fire, and the ensuing protests and government change were the "most probable" causes of the 5-point fall in the Nielsen index, according to a company press release. This was also reflected in what Romanian consumers chose to spend their money on once they covered their monthly dues, with "outside the home entertainment" reaching the lowest level of the year in Q4.
Unlike the European consumer who primarily worries over terrorism and the state of the economy besides job security, Romanians are mostly concerned over health, job security and debt payments, reports the Nielsen index. "Consumer worries over terrorism and immigration have increased in the past quarters in those countries most affected by recent events," stated Louise Keely, Nielsen vice-president and president of the Demand Institute.
At the European level, significant increases in fears regarding terrorism were seen in the United Kingdom (32 percent, +11pp) and the Netherlands (26 percent, +8pp), according to the Nielsen index. As for immigration, the Czech Republic (36 percent), Sweden (28 percent), Germany (27 percent), Austria (26 percent), Norway (26 percent), United Kingdom (22 percent), Switzerland (22 percent), and Finland (21 percent) were the countries with most increases in consumer fears.
When it comes to confidence about the economy, in Romania, 54 percent of respondents consider that the country is not in recession, "an increase of 1 percent compared to Q3 2015," adds the index. For the first time in the past years, the second quarter of 2015 was "when half of Romanians considered that the country was no longer in recession", a result that places Romania in top 5 of countries with a predominantly anti-recession sentiment, next to the Czech Republic, Denmark, Germany and Switzerland.
Globally, confidence in the economy, i.e. decrease in recession perception, has increased most in the last quarter of 2015 as compared to Q3 in Latvia (59 percent, -11pp), Estonia (46 percent, -10pp), Italy (80 percent, -9pp) and the United States (47 percent, -8pp), reports the Nielsen index. At the other end of the spectrum, Sweden (62 percent, +13 pp), Singapore (40 percent, +10pp), United Arab Emirates (53 percent, +10pp) and Norway (63 percent, +10pp) experienced increases in recession perception.
Andreea Tint