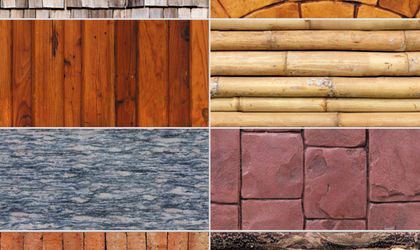 According to a top by turnover of companies producing construction materials made by RisCo, the industry has known many shifts in term of turnover and net profit.
While the first place is still taken by last year's occupant, four new companies have entered the top, while rankings have changed dramatically.
Arabesque from Galati ranks first with a turnover of RON 1.5 million. Their net profit has increased by almost 50 percent, to RON 44.8 million, while their employee number has also risen from 2,439 to 2,486.
The second ranking company, Mitliv Exim from Craiova, has climbed two spots by posting revenues of RON 283.4 million and net profits of RON 12.4 million (from RON 7.2 million in 2013). Their employees' number went up by about 135 people, to 416.
Damila from Valcea has also climbed two spots from fifth place in 2013. In 2014 it increased turnover from RON 213.4 million to RON 228.1 million. With a constant number of employees, of 222, their net profits registered a drop to RON 654.2 million.
Fourth in the rankings is Holver from Brasov, also up by two spots. While their turnover (RON 210.2 million) and employee numbers (240) recorded moderate increases, their net profits went up from RON 287,600 to RON 1.1 million.
Wienerberger – Brick systems in Bucharest registered positive changes both in terms of turnover and profitability. The turnover of the company increased from RON 123.5 million in 2013 to RON 142.6 million in 2014. Last year the company reported a net profit of RON 734,000, compared with a loss of RON 3.3 million recorded in 2013. However, it should be noted that part of the turnover increase is based on the increase in claims from RON 24 million in 2013 to RON 51 million in 2014.
On sixth place in the top is a new entry in the top company, Kesz Epito Es Szerelo Zrt Szeged. Increasing the number of employees from 27 to 31 people in 2014 had a positive effect on both the turnover and the net profit. Its turnover of RON 126.2 million increased by RON 41.2 million in 2014 and profitability increased compared by RON 5.05 million against 2013, its value in 2014 reaching RON 5.3 million.
Ranked seventh, Mitliv Ph Construct from Craiova (part of the Mitliv Exim group) is also a new entry. In 2014 this company has managed to increase its turnover, net profit and number of employees. Thus, turnover increased from RON 96.9 million to RON 122.6 million in 2014 and the company's profit of RON 799,800 increased by RON 485,300. The number of employees in 2014 was 46, 15 people more than in 2013.
Number eight is again taken by a new entry, RusTrans of Bacau. With a profit of RON 2.2 million and a total of 271 employees, both numbers in an upward trend, the company has managed to increase in turnover also, from RON 114.3 million in 2013 to 120.08 million in 2014.
Ferco Capital, 9th place in the top, had a turnover of RON 119.6 million, increasing by RON 118.2 million compared to 2013 and Intertranscom Impex has increased turnover in 2014 from RON 102.5 million to RON 109.2 million.
Natalias Martia