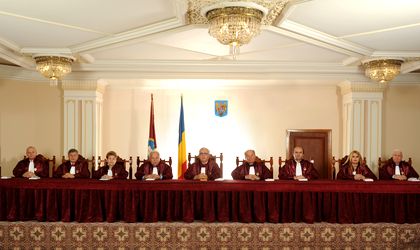 Update: The impeachment referendum of Traian Basescu was not validated by the CCR judges, due to insufficient turnout. The decision was made with six out of nine votes.
Thus, President Traian Basescu will return to office for the remaining two years of his second mandate. President Basescu has been suspended twice in the last five years and has survived two impeachment referendums.
The nine judges of the Constitutional Court (CCR) will meet tomorrow to debate the results of the July 29 impeachment referendum of Traian Basescu after requesting the updated figure of eligible voters from the Government.
PM Ponta said on Monday that the data centralized by the Ministry of Administration and Interior and the Foreign Affairs Ministry will be sent to CCR later that day.
"The CCR  will decide how it establishes, what will take into account from these figures, I can't say this," said Ponta, quoted by Agerpres newswire. "I can guarantee that the data transmitted to CCR today are not invented nor calculated by us, these are figures based on documents that we currently have."
The July 29 referendum registered a turnout of 46.2 percent, below the 51 percent threshold needed to validate it. More than 7.4 million Romanians voted to impeach the suspended president Basescu, while close to 1 million opposed it.
The CCR initially met on August 2 to rule out the outcome of the referendum, but delayed the vote as it needed more data from the authorities on the electoral lists. However, the decision was amended with an erratum four days later. This included in the permanent electoral lists all the Romanian citizens with voting rights that live in Romania or abroad.
However, the erratum sparked controversy as some of the judges said they didn't know anything about it. Two of them called for an emergency meeting that was held on August 14. They ruled out that the erratum was legal.
Out of the nine judges, six have to vote one way or another to make the ruling valid.
Ovidiu Posirca