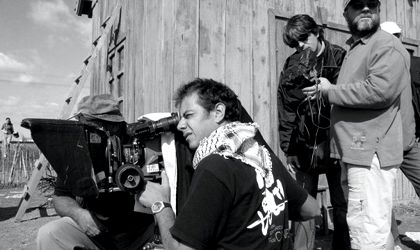 The Hollywood Reporter, Indie Wire, Variety and other important international cinema magazines consider Mihai Malaimare jr.'s Walk Among the Tombstones movie one of his best.
In The Hollywood Reporter article titled "What critics are saying", several publications are citied:
The Hollywood Reporter's Frank Scheck considers it "the latest example of [Neeson's] unlikely late-career transformation into an action hero," following the Taken films and Non-Stop. (…) Altogether, Frank "clearly has an affinity for the material, investing the proceedings with a darkly compelling atmosphere that recalls the best noirs of the '40s and '50s. The film benefits greatly from having been shot in various seedy NYC neighborhoods — not to mention the spooky gothic cemetery that inspires the title — with cinematographer Mihai Malaimare Jr. delivering a desaturated color palette accentuating the overall gloominess." Scheck concludes, "If the film does launch a series, there's plenty of material to draw from," also praising such a possibility over the upcoming Taken 3.
The New York Times' Manohla Dargis calls it "nasty, brutal and unforgiving" with "one of those rare contemporary cinematic offerings: intelligent pulp." Frank's script "gives the characters lots to talk about, both on and studiously off point, [and] he also streamlines the book's story and jettisons some characters." Altogether, "however attractively shot, with its moody palette and scrupulous framing, A Walk Among the Tombstones can be tough to watch," she warns.
On Indie Wire's blog, journalist Bill Desowitz explains how Mihai Malaimare jr. recreated the gritty paranoia and dread of 1970s urban American thrillers for "A Walk Among the Tombstones". "What interested the Romanian cinematographer, who learned his craft collaborating with Francis Ford Coppola ("Tetro," "Youth Without Youth") and Paul Thomas Anderson ("The Master"), was trying to capture New York (Brooklyn, Hell's Kitchen, Red Hook, Bushwick, and the Lower East Side) in a fresh way as a total outsider", notes the publication. "Our first idea was that even though it's the '90s, how do we try and make it look like a '70s movie and move the camera less unless it's for a certain purpose?," Malaimare says. He went digital with the Alexa and Red Epic for extensive shooting inside cars and vans. "And what type of lenses? We ended up using Panavision anamorphic from the '60s. A huge advantage was a long prep and taking so many stills. It was a luxury", explains the Romanian cinematographer for the same publication.
Also, Variety magazine writes that "Mihai Malaimare Jr.'s photography is consistently impressive", in their film review, which can be read here.
Photo courtesy of Mihai Malaimare jr. Facebook page
Oana Vasiliu