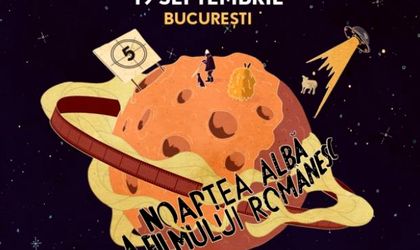 The fifth edition of Noaptea Albă a Filmului Românesc (the White Night of the Romanian Cinema) will take place tonight starting at 19.00.
Romanian cinema will take over the town, with projections and events scheduled at several locations around town:  Muzeul Naţional al Ţăranului Român: Studioul Horia Bernea şi MNTR Open Air, Elvire Popesco, Cinema Studio, cinema Patria, CinemaPRO, Dianei | 4 and J'ai Bistrot.
Foreign movie lovers will not be left out, given that the organisers have already thought of adding English subtitles to the most important films in the program:
Plansa, Scurt / 4: istorii de inima neagra,
Asfalt Tango,
Funeralii fericite,
Sunt o baba comunista,
Selfie,
Kira Kiralina,
Domnisoara Christina,
O vara foarte instabila (English languages, Romanian subtitles),
Roxanne,
O poveste de dragoste Lindenfeld,
Deja Vu,
Afacerea Tanase,
Bucuresti, unde esti?,
City Tour,
Experimentul Bucuresti, Shorts.
Here you will find the entire schedule.