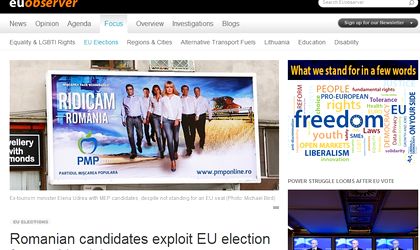 Journalists Michael Bird and Stefan Candea wrote for EUObserver that Romania's European election campaign is dominated by the faces of candidates bidding to become President in November's elections for a new head of state.
"Positioned across the boulevards of cities and towns, along the country roads of villages and throughout social media, are portraits of the contenders likely to stand in the Autumn poll, pushing the candidates for the European Parliament into the background", write the journalists.
The figures that appear on the electoral ads include Social Democratic (PSD) Prime Minister Victor Ponta, National Liberal Party (PNL) leader Crin Antonescu and ex-tourism minister Elena Udrea from a new party, Popular Movement (PMP). EUObserver notes that none of these seasoned Romanian politicians are fighting for a European seat. "While Ponta and Antonescu are likely to stand for their parties for President, President Basescu has thrown his support behind Udrea, if she chooses to run", says the publication.
The entire article can be read here.
Oana Vasiliu