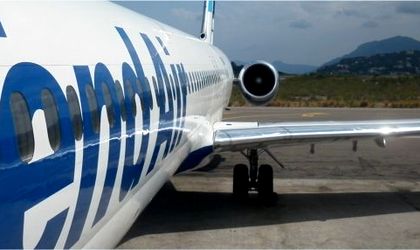 A new airline will begin operating in Romania starting May 15 under the brand Fly Romania. The airline is owned by Ten Airways, a company set up in 2010 and controlled by Romanian businessman Ovidiu Tender.
For the first year of activity, the company plans to fly some 100,000 passengers on internal and external routes and report a turnover of around EUR 15 million in 2014, said Catalin Butu, GM Ten Airways. Fly Romania will operate flights from the Bucharest Henri Coanda International Airport (Otopeni) and the Timisoara and Tulcea airports.
The internal flights the airline will operate are Timisoara – Bucharest (daily flights, except Saturday for EUR 69.90) and Tulcea – Bucharest (three flights per week) for EUR 69.90 and EUR 49.90 (one way tickets), respectively. For international flights prices start at EUR 29.90. Fly Romania will operate flights to Bergamo (two flights per week from Tulcea), to Verona (three flights per week from Timisoara and Bucharest), Genoa (three flights per week from Bucharest), Barcelona (three flights per week from Bucharest), Frankfurt (three flights from per week from Bucharest and one from Tulcea) and Antalya (one flights per week from Bucharest starting June.
The flights will be operated with two MD-82 and MD-83 airplanes which Ten Airways has purchased from Alitalia.
Ten Airways was launched in 2010 and has up to now operated only charter and wet lease flights. It operates six aircrafts. Some of the company's clients include Blue Air, Air Moldova, Aegean Airlines, Roya Morocco, Blue Panorama, Perfect Tour and Paralela 45.
Read more in next week's print edition.
Simona Bazavan