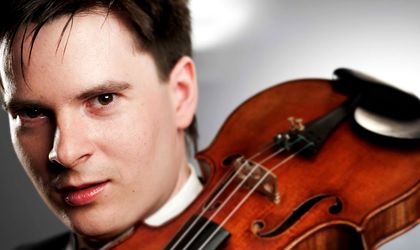 On September 18, George Enescu International Competition has chosen its winner for the Violin Section: Romanian-born Ștefan Tarara, over the two finalists Roudine Fedor (France), second prize, and Bae Wonhee (South Korea), third prize.
The artists serving on the 2014 Enescu Competition's Violin Section Jury are: Pierre Amoyal (who presides over the Jury), Agustin Leon Ara, Florin Croitoru, Mikhail Kopelman, Sergey Kravchenko, Mihaela Martin, Igor Petrushevski, Bujor Prelipcean, and Mieczyslaw Szlezer.
Violonist Ștefan Tarara has interpreted in the finals Tchaikovsky's Concerto for Violin and Orchestra op.35 in D major. Daisuke Soga, the conductor of the George Enescu orchestra for this final of the violin section declared about this experience that "It was a great experience to conduct Finale of the George Enescu Competition, 2014 violin section. Congratulation to the three finalists and Stefan Tarara the first prizewinner! This was a not first time (and I hope not last time)to conduct a orchestra in such a situation, so every time I feel during competitor's performance, their effort and their time which spend to be as a finalist of the Competition. Many years ago, I went through same situation as a competitor, still I remember such a days and stresses, fantastic feeling with the orchestra on competitions. The level of the Enescu Competition was really high, and It was a really difficult to decide ranking, but the decision of juries was as same as which I felt. But I really enjoyed the three different inspirations and passions of young competitors, only the (small) difference was the maturity about the repertory".
Second Prize went to 22-year-old Russian Fedor Roudine, who won the Rodolfo Lipizer International Competition in September last year, and Third Prize to 27-year-old Wonhee Bae from South Korea. Winners of the Cello, Piano and Composition categories will be announced in the coming week.
Starting September 16, the Competition's concerts and recitals may be also watched live on a Screen placed outside by the Romanian Athenaeum.
Oana Vasiliu