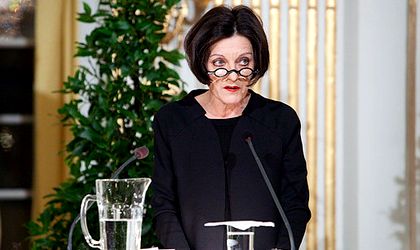 The New York Times offers an encouraging review of "The Hunger Angel", the latest book signed by Herta Muller, the Romanian-born German novelist, through an article published in the May 18 edition.
After winning the 2009 Nobel Prize in Literature, Herta Muller was described as a writer "who, with the concentration of poetry and the frankness of prose, depicts the landscape of the dispossessed" by The Nobel Foundation.
"The Hunger Angel" is a book about Ms. Muller's experience to a trauma endured by her parents' generation: the deportation of thousands of long-established ethnically German Romanians to labor camps in the Soviet Union's while World War II was ending.
In an interview for PEN World Voices literary festival, the novelist outlined several facts that inspired her latest book: her life as a teenager in Romania, more precisely in a tiny, German-speaking Transylvania village, near Timisoara. A strong and moving declaration of the artist is "There were no books at home." But when, as a teenager, she was sent off to high school inTimisoara, the closest city, she said: "Whatever I read went under my skin, I almost devoured the literature, which became like a road to discovery. And this is how it stayed. I always wanted to know, how should one live? I write in order to bear witness to life."
The entire article from New York Times describes parts of Herta Muller's life and offers several insights about her new book. You can read the full story here.
Oana Vasiliu