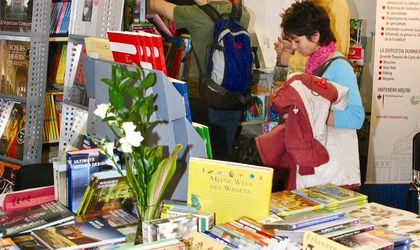 Romania is attending the Turin International Book Fair between May 16-20, where this year's theme is "La creativita Dove osano le idée" (translation "Creativity. Where Ideas Dare").
For five years in a row, the Venice-based Romanian Institute for Culture and Humanistic Research (IRCCU) supported by the Romanian Cultural Institute (IRC) organizes Romania's participation in Italy's most important book show. On this 26th edition of the book fair, our country has a national stand called LIBROmania al Salone di Turin (BookRo- mania at Turin Book Fair).
Located in the Fair's 3rd ward P10-RO9, Romania's stand, conceived after a concept inspired from the main theme of this year edition of the event, includes a book sale space provided by Humanitas Publishing House's Book Shop, as well as a tourist info-point organized in partnership with Romania's National Tourism Office in Italy, according to IRCCU Venice release.
At this event, the Venice branch of IRCCU during the Turin International Book Fair bring together more than 30 guests, Romanian writers, representative of both Romania and Italian publishing houses, translators of Romanian literature into Italian, journalists, historians and philosophers interested in various fields of the Romanian culture.
Oana Vasiliu