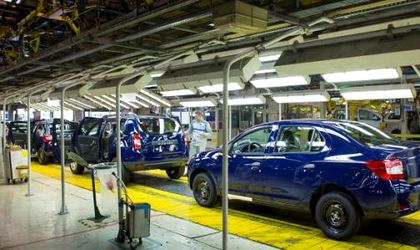 Over 66,000 passenger cars and commercial vehicles were sold in Romania in the first seven months of this year, up by 15.8 percent compared to the same period last year, the Automotive Manufacturers and Importers Association (APIA) announced this Wednesday.  Passenger cars sales went up by 13.4 y-o-y.
However, sales showed signs of slowing down their growth rate in July when 19 percent fewer cars were sold on average each day. "This is an interesting evolution given that demand should be higher during this period given the late start of the Rabla program (e.n. the cash for clunkers program in which owners of old vehicles receive a voucher to buy a new vehicles when turning in their car)," said APIA representatives.
By comparison, second car sales were also up (by 13.4 percent in the first seven months) totalling about 135,208 units.
New car acquisitions made by companies continued to dominate the market with a share of 75 percent in the first seven months.
The top three best sold new cars in the first seven months of this year were Dacia cars – Dacia Logan (9,341 units) and Dacia Sandero (3,617 units).  Skoda Octavia (2,244 units) came fourth followed by another Dcaia model – Dacia Logan MCV (1,833 units).
About 54 percent of the new cars sold in Romania during this time were diesel models, their share dropping compared to the beginning of the year (67.4 percent in January) and 45.6 percent last year.
In terms of car production, approximately 39,400 new cars were produced in Romania in July. This was up by 13.3 percent m-o-m. For the first seven months of this year production stood at  251,839 units which marked an increase 2.3 percent y-o-y.
Staff