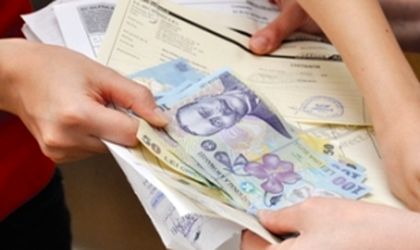 Prosecutors and officers of the judiciary police dismantled on Thursday a crime group comprising of a high ranking banker and public officials from the Ministry of Economy that took out illegal loans based on fake documents, leading to an estimated fraud of EUR 22 million.
Update: 33 persons, including the BRD vice-president and former intelligence general Diaconescu, have been arrested for 24 hours.
The organized crime investigation divisions of DIICOT and BCCO carried out this morning 50 house searches and have taken in 100 persons for questioning.
The suspects tried to obtain 40 loans from 16 banking units across Romania by using counterfeit documents. They obtained illegally from the Ministry of Economy, based on forged documents, the financing of projects for the purchase of equipments. This was done through companies controlled by the crime ring.
The fraud was supported Aurel Saramet, director of the National Guarantee Fund for SMEs, Claudiu Cercel, BRD vice-president, three officials of the Ministry of Economy and Florian Diaconescu. Diaconescu is a retired intelligence general who headed the ring, according to EVZ daily. The coordinator of the crime ring was Daniel Ruse, according to DIICOT.
The Ministry of Economy started procedures to suspend the persons investigated by DIICOT.
BCR, the leading lender, has cooperated with DIICOT since May on the investigation. BCR's antifraud division discovered in the second quarter that the loan files of four firms in Calarasi, Oltenita and Bucharest contained fake information. The lender fired the employees involved in this case and has filed penal complaints against them. BCR said this hasn't impacted its normal activity.
BRD, the second lender after assets in Romania, said it will cooperate with authorities. BRD stated this event hasn't disrupted its activity.
Ovidiu Posirca