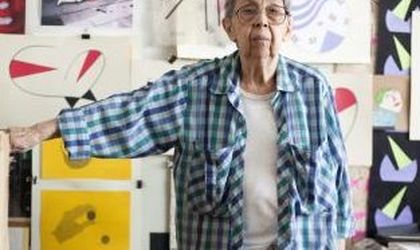 The Art on the Underground, Transport for London's public art programme, will commission a year-long programme of women artists in 2018, which marks 100 years since the Representation of the People Act, enabling all men and some women over the age of 30 to vote for the first time. The artists represented in the London underground stations are: Linder, Njideka Akunyili Crosby, Geta Bratescu, Marie Jacotey, Heather Phillipson, Nina Wakeford.
Among the highlights:
A major project with British artist Heather Phillipson filling the 80-metre-long disused platform at Gloucester Road station
A major new billboard commission by British artist Linder at Southwark station
Tube map covers by Romanian artist Geta Bratescuand French artist Marie Jacotey
The first commission in a new programme at Brixton station taking the Brixton murals as an initial point of departure, by Nigerian-born artist Njideka Akunyili Crosby
In their official statement they notice that the programme will have mass presence across London; at street level on billboards at Brixton and Southwark, on the cover of over 25 million Tube maps, and in a hugely ambitious sculptural intervention on an 80 metre long platform at Gloucester Road Station. There are almost six million journeys taken on London Underground each day, and Art on the Underground's 2018 programme will put women at the forefront of public space.
Read also: Romania represented by Geta Bratescu at Venice Biennale 2017
Regarding the Romanian artist Geta Bratescu's work, the official statements notes:
"In Spring 2018, for the 28th edition of the pocket Tube map, Art on the Underground have commissioned Romanian nonagenarian artist Geta Bratescu to create a new artwork, marking her first public commission in the UK. Bratescu's extensive career has comprised drawing, collage, tapestry, photography, experimental film and performance. Having studied drawing and worked for many years as a graphic designer, her practice has a sustained engagement with the drawn line, whether through collage, a technique she calls "drawing with scissors", in fabric, or through her meticulous draughtsmanship. Gender and motherhood are recurrent themes in Bratescu's work, and are often explored through literary figures; she rejects the concept of feminism in favor of a celebration of femininity."
More details about all the other artists can be found here.
The artist's recent exhibitions include a solo show at Tate Liverpool in 2015; MATRIX 254 / Geta Bratescu, a solo show at Berkeley Art Museum and Pacific Film Archive in 2014; as well as participations in The Encyclopedic Palace, La Biennale di Venezia in 2013; La Triennale, Paris, Palais de Tokyo, in 2012; and the 12th Istanbul Biennial in 2011. Brătescu's works are in important collections such as MoMA, New York; Centre Georges Pompidou, Paris; Tate Modern, London; Hammer Museum, Los Angeles; San Francisco Museum of Modern Art, San Francisco; Museum of Modern Art, Warsaw; The National Museum of Contemporary Art, Bucharest; MUMOK, Vienna; Kontakt Collection, Vienna; Moderna Galerija, Ljubljana; and FRAC Lorraine, Metz.
In 2017, Bratescu takes part in Documenta 14, Athens and Kassel, has a solo exhibition shown at the Camden Arts Centre and then at the MSK Gent, her first New York solo show at Hauser & Wirth and represents Romania in the Venice Biennale with the solo show Apparitions, curated by Magda Radu.