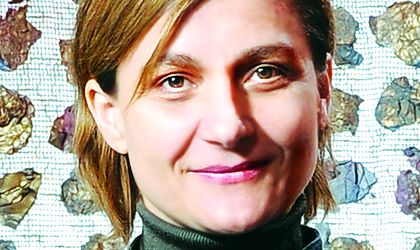 The Latvian National Museum of Art, Museum of Decorative Arts and Design in Riga opens the 5th International Textile and Fibre Art Triennial, with the theme "DIVERSITY&UNITY", where Romanian artist Dorina Horatau participates with her artwork "SIT". The exhibition will be opened on April 23, 2015 at 4 p.m. in the exhibition hall Arsenāls in Riga and will last till June 10, 2015.
"A few years ago, we had to dispose our grandparents' lifetime heritage to ensure a better future for our family in the Romanian capital. For a period of time I felt rooted out, therefore, I had to find a way to keep connected with my past, with traditions. So, I started to mow the grass from my parents' childhood yard and create a Site (Romanian "SIT") made out of a series of fabrics-carpet, which preserves and recalls the place where I grew up.", declares the artist.
The aim of the organizers of the Triennial is to create a high-quality exhibition which will present the topical and most innovative trends in the field of textile and fibre art in Europe and in the world today. The theme DIVERSITY&UNITY was selected due to the fact that Latvia will become the country of presidency for the EU in 2015, therefore the emphasis lies on the national identity in the context of EU and the global world.
How different national cultures express their identity within the European and global context and in contemporary society? Is it possible within the theme to create an artwork, which actualizes or influences the acute problems of our modern epoch in a social, political and cultural context?
Romanian artist Dorina Horătău is among the 85 selected artists out of 186 applications. The artwork entitled "SIT" is an indoor installation which consists of a network of fabrics made ​​of dry grass, polished rods, woolen fabric printed manual, which describes the artist's visual concept.
Tatiana Lazar