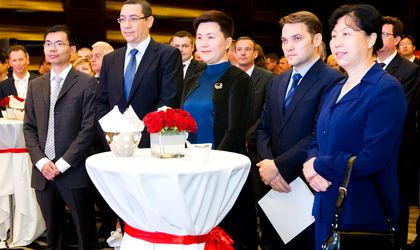 Romanian Prime-Minister Victor Ponta pledged that the government would improve the legislation to help Romania become a special part of Huawei's global footprint. 
By Otilia Haraga, Ovidiu Posirca
"Romania is a very important market for Huawei because it has a very favorable geographical position, good logistics and effective governance," said Amy Lin, global vice-president for public affairs and communications at Huawei. "In Romania, Huawei may well be offering services to over 80 percent of the Romanian population and over 14 million inhabitants may be using our products."
Chinese supplier of telecom equipment and services Huawei celebrated a decade since opening its office in Romania in a ceremony that was attended by Victor Ponta, Romanian prime minister, Dan Sova, the delegate-minister for large infrastructure projects and foreign investment, Her Excellency Huo Yuzhen, Chinese ambassador to Romania, Amy Lin, global vice-president for public affairs and communications at Huawei, and Wang Haitao, general manager of Huawei Romania.
Other members of the audience included Catalin Marinescu, president of telecom watchdog ANCOM, Nikolai Beckers, CEO of Romtelecom and Cosmote Romania, Jean-Francois Fallacher, CEO of Orange Romania, and Dinu Malacopol, CEO at Digital Cable Systems, to name just a few.
"I believe Romania has great human potential in the development of new technologies. It is not by chance that we were one of the first countries in Europe to implement 4G technology and Huawei will be an important supplier of 4G technology for telecom companies in Romania," said PM Ponta.
Romania is the first country to tap into the USD 10 billion partnership between China and Central and Eastern European countries through a program of acquisitions of telecommunication technologies, he added. Last year, China announced it had opened a USD 10 billion credit line for companies in CEE for investment projects in technology, infrastructure and green energy.
The Romanian PM said that the fact that Huawei could see in Romania a development center for the whole of Europe was very good news and the government would offer its full support for the strategy to be implemented. "It is clear that the generations who follow are a target for Huawei. We want to give a chance to young Romanians who are extremely well prepared and I think in collaboration with a strong company like Huawei, Romania will become a European leader in this field," said Ponta.
Last week, the Romanian PM visited the Huawei headquarters in Shenzhen during a four-day visit to China, as part of his Asian tour, which also included visits to Azerbaijan, Kazakhstan and Uzbekistan. Ponta proposed a strategic partnership to the Chinese leadership in an effort to boost economic ties with the world's second largest economy.
The PM discussed with Chinese Premier Li Keqiang means of attracting additional investments – mainly in the energy sector – and increasing Romanian exports. Ponta also met President Xi Jinping and explored the possibility of enhancing the countries' political ties.
"We proposed during talks with the (e.n. Chinese) president and the PM raising relations between Romania and China to the highest level, of a strategic partnership. We have this partnership with only a few countries and we hope, as next year we reach 65 years of diplomatic relations, to have a strategic partnership with China," said Ponta.
A partnership involves big financial stakes as the government is trying to tempt Chinese investors to finance and build major generation projects in the energy sector such as two nuclear reactors in Cernavoda and the hydroelectric pumped-storage project Tarnita Lapustesti, which have a combined price tag of over EUR 7 billion. Chinese firms were also invited to build a submarine cable through to Turkey, allowing Romania to export additional electricity.
Energy experts say these projects are crucial to securing Romania's future power supply, and the authorities have unsuccessfully attempted to attract investors either from Western Europe or China over the past few years. Under a proposal by the PM, Chinese companies would be allowed to hold the majority stake in the large projects they build locally.
According to Ponta representatives of China Nuclear Electric would come to Bucharest this month for discussions with the executive regarding a possible involvement in the Cernavoda 3 and 4 reactors. During the same visit, Sova signed a memorandum of understanding with China Development Bank.
Huawei pledges strong investments in Romania
Ten years since opening its Romanian office, Huawei's total headcount has reached 800 employees locally, across the company's three divisions.
Huawei's operations in Romania are channeled around the Global Services Center, which currently has 400 employees, the Financial Assistance Center, with a staff of 265, and the Huawei offices, where the remaining 135 people work. Apart from the 800 direct jobs, company officials say Huawei has created an additional 2,000 collateral temporary jobs through its local partners and suppliers.
The Global Services Center was set up about one year ago following a total investment of EUR 6 million, with the target to cater for operators in the pan-European region.
Huawei's terminals division in Romania was founded in 2006. "In Q4 2012, we entered the top five producers of mobile phones in Romania in terms of volume," said Sorina Macarescu, marketing director of the Huawei terminal department.
"The Romanian office covers both mobile and fixed carriers, the consumer and enterprise divisions. We have also been present since last year in the vertical industries division, in e-government, financial, oil & gas, energy and transportation with telecom and IT solutions," said Vlad Doicaru, director of the department of integrated accounts at Huawei Romania.
Currently there are 400 employees in the Global Services Center. At the end of 2013, the total company headcount is projected to reach around 1,000 employees, while in 2014, it is set to climb to 1,200 employees, of whom 600 will be in the Global Service Center.
At the moment, 70 percent of the engineers employed are Romanian and 30 percent are Chinese or other nationalities. "We intend to expand the services to other places in the country based on where there are universities," said Victor Stan, director of Huawei Global Services Center Romania.
Between 2007 and 2013, the firm invested over EUR 90 million in Romania and intends to invest more than EUR 100 million locally over the next five years. "Huawei's global revenues last year surpassed USD 35.4 billion, and in the first semester global revenues surpassed USD 20 billion," said Lin.
Photo: (from left to right): Wang Haitao, GM of Huawei Romania, Romanian PM Victor Ponta, Amy Lin, global VP for public affairs and communications at Huawei, Dan Sova, delegate minister for large infrastructure projects and Huo Yuzhen, Chinese ambassador to Romania
otilia.haraga@business-review.ro
ovidiu.posirca@business-review.ro